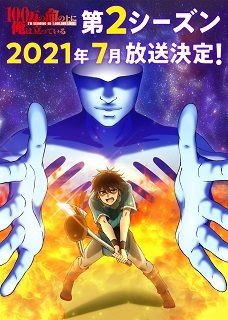 The official website of the 100-man no Inochi no Ue ni Ore wa Tatteiru (I'm Standing on a Million Lives) anime series revealed four supporting cast, ending theme performer, and a promotional video for the second season on Friday. The new season will begin airing in July 2021.
Cast
Keita Torii: Toshiyuki Toyonaga (Gamers!)
Yana: Ayana Taketatsu (Kawaikereba Hentai demo Suki ni Natte Kuremasu ka?)
Aoyu: Aoi Yuuki (Boku no Kanojo ga Majimesugiru Sho-bitch na Ken)
Cantil: Shinichiro Miki (Trinity Seven)
Virtual idol Kaede Higuchi is performing the opening theme "Baddest." Kanako Takatsuki (Love Live! Sunshine!!) is returning from the first season to perform the ending theme "Subversive."
Kumiko Habara (Angolmois: Genkou Kassenki assistant director) is returning to direct the second season at Maho Film. Takao Yoshioka (Shichisei no Subaru) is once again in charge of the series composition.
Kaho Deguchi (Kami-tachi ni Hirowareta Otoko) is joining the staff as a character designers alongside Eri Kojima (Carole & Tuesday animation director) and Toshihide Masudate (Isekai wa Smartphone to Tomo ni.).
The television anime adapts Naoki Yamakawa and Akinari Nao's fantasy action manga, which began in Bessatsu Shounen Magazine in June 2016. Kodansha shipped the 11th volume on December 9.
The first season aired in 12 episodes in Fall 2020, covering up to chapter 12 in the third volume. Crunchyroll simulcast the anime as it aired in Japan.
PV
Source: Aniverse