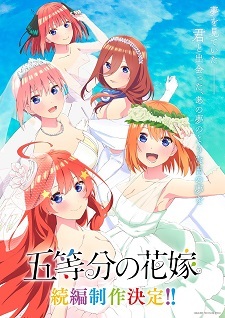 The 12th and final episode of the second season of 5-toubun no Hanayome (The Quintessential Quintuplets), 5-toubun no Hanayome ∬ (The Quintessential Quintuplets 2), announced a sequel following its airing on Friday. The official website also revealed a teaser visual (pictured).
Synopsis
Through their tutor Fuutarou Uesugi's diligent guidance, the Nakano quintuplets' academic performance shows signs of improvement, even if their path to graduation is still rocky. However, as they continue to cause various situations that delay any actual tutoring, Fuutarou becomes increasingly involved with their personal lives, further complicating their relationship with each other.
On another note, Fuutarou slowly begins to realize the existence of a possible connection between him and the past he believes to have shared with one of the five girls. With everyone's feelings beginning to develop and overlap, will they be able to keep their bond strictly to that of a teacher and his students—or will it mature into something else entirely? [Written by MAL Rewrite]
The anime series adapts Negi Haruba's romantic comedy manga, which he originally published as a one-shot in Weekly Shounen Magazine in January 2017. The manga joined the magazine's regular lineup in August that year and ended last February. Kodansha shipped the 14th and final volume on April 17 last year. 5-toubun no Hanayome has a cumulative 14.5 million copies of its compiled volumes in circulation.
The first anime season by Tezuka Productions aired in 12 episodes in Winter 2019. The second season, produced by Bibury Animation Studios, began airing on January 8. Crunchyroll simulcast both seasons with subtitles as they aired in Japan. Funimation streamed the first season with an English dub and released it on home video last May.
Kodansha Comics licensed the manga in English in 2018 for both digital and physical release. The 14th and final volume was released digitally on August 11.
Announcement
Official site: http://www.tbs.co.jp/anime/5hanayome/
Official Twitter: @5Hanayome_anime
Source: Comic Natalie