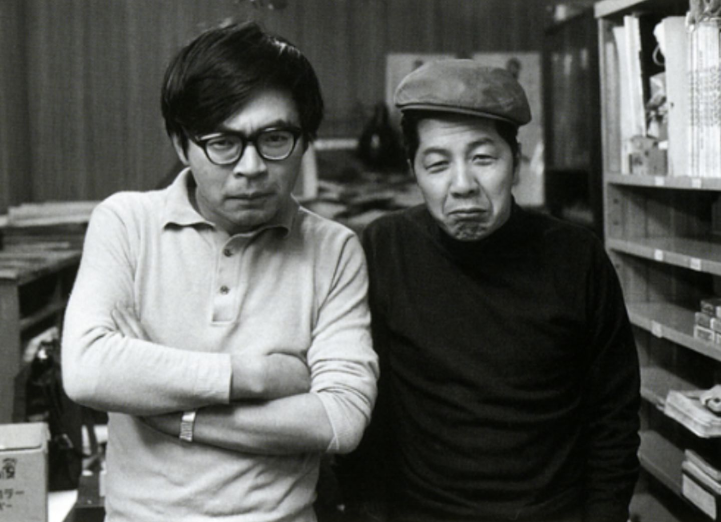 Yasuo Ootsuka (right) with Hayao Miyazaki
Animator Yasuo Ootsuka died on Monday, March 15. He was 89 years old. Studio Ghibli producer Toshio Suzuki revealed the news on the same day at the 2021 Tokyo Anime Award Festival.
Ootsuka was born on July 11, 1931, in Shimane Prefecture, Japan, and he joined Toei Animation in 1956. His early contributions included animation for Hakujaden (The Great White Snake) and Wanpaku Ouji no Orochi Taiji (Orochi, the Eight-Headed Dragon), the latter of which he collaborated on with the late Isao Takahata. He served as an animation director alongside Takahata (director) and Hayao Miyazaki (layout design, key animation) on Taiyou no Ouji: Horus no Daibouken (The Little Norse Prince), and was a mentor to both in their early years at Toei Animation.
The three collaborated again at Tokyo Movie Shinsha (now TMS Entertainment) on Lupin III, for which he was an animation director and character designer. Ootsuka continued to work on Lupin III anime until finishing Lupin III: Cagliostro no Shiro (The Castle of Cagliostro) in 1979. He returned to the franchise for Lupin III: Kiri no Elusive (Lupin III: Elusiveness of the Fog) in 2007, which would be his final credit as an animator. His other notable projects as an animation director and character designer include Mirai Shounen Conan (Future Boy Conan) and Jarinko Chie.
Ootsuka had a passion for automobiles—particularly military vehicles—and wrote and illustrated numerous books dedicated to them beginning in the 1980s. Genkousha published a collection of his vehicle illustrations from the Lupin III series in 2020.
He was a lecturer at Yoyogi Animation Gakuin in his later years, and received the Special Award from the Association at the 42nd Japan Academy Prize—Japan's equivalent of the Academy Awards—in 2019. That year, comedian Akira Kawashima portrayed a character based loosely on Ootsuka in NHK's 100th Asadora, Natsuzora, which was partially set at a fictionalized Toei Animation.
Source: Animage Plus