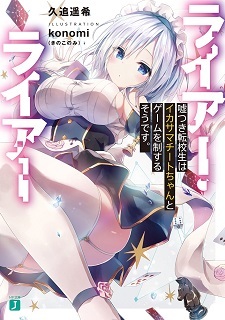 An anime project of Haruki Kuou's Liar Liar light novel was announced by Kadokawa on Thursday. The publishing company also posted a 90-second special promo, featuring voice actress Akari Kitou (Youkoso Jitsuryoku Shijou Shugi no Kyoushitsu e (TV)) as the character Sarasa Saionji.
Synopsis
At Academy Island, everything is settled through "Games" waged for a certain number of stars, with the strongest student being granted the ranking of Seven Stars. Hiroto, a transfer student, unexpectedly beats the strongest empress and becomes the pseudo-strongest in the school! A mind game of lies and bluffs begins! (Source: Kadokawa, translated)
Kuou launched the psychological game light novel under the MF Bunko J imprint with illustrations by konomi in April 2019. Kadokawa published the seventh volume on March 25. Liar Liar has a cumulative 150,000 copies of its volumes in circulation.
Funa Yukina began drawing a manga adaptation in Monthly Comic Alive in August 2019. The second volume shipped on November 21 last year.
Special Promo
Novel special site: https://mfbunkoj.jp/special-contents/liar-liar/sp.html
Official Twitter: @liar2_official
Source: PR Times