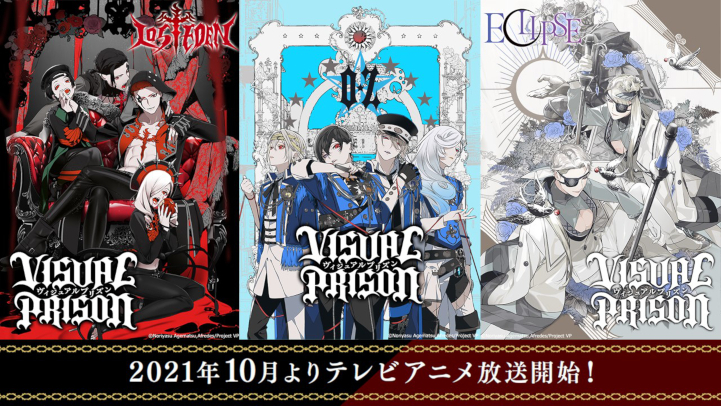 An original television anime collaboration between Aniplex, A-1 Pictures, and composer Noriyasu Agematsu (Senki Zesshou Symphogear, BanG Dream!) was unveiled during AnimeJapan 2021's Infinity Red Stage on Saturday. Main cast, staff, and a character promotional video were revealed. Titled Visual Prison, the anime series is scheduled to premiere in October 2021.
Cast
Oz
Ange Yuki: Shouya Chiba (B-Project: Zecchou*Emotion)
Guiltia Brion: Makoto Furukawa (Skate-Leading☆Stars)
Eve Louise: Hiroki Nanami (Nobunaga the Fool)
Robin Lafitte: Shun Horie (The [email protected] SideM)
Lost Eden
Saga Latour: Takuya Eguchi (Given)
Mist Flaive: Nobunaga Shimazaki (Servamp)
Veuve Elizabeth: Takuma Nagatsuka (SK∞)
Jack Mouton: Shougo Yano (Tsurune: Kazemai Koukou Kyuudoubu)
Eclipse
Dimitri Romanee: Toshiki Masuda (Ensemble Stars!)
Hyde Jayer: Shouta Aoi (Tsukiuta. The Animation)
Staff
Creator: Noriyasu Agematsu (Alfredes)
Music: Elements Garden (White Album 2, Tensei shitara Slime Datta Ken)
Original Character Design: Ikumi Katagiri (Are You Alice? manga)
Production: Project VP
Studio: A-1 Pictures
Agematsu primarily composes and produces music for anime and video games. He won the individual award at the 17th Animation Kobe for his achievements as a producer, composer, and lyricist on Senki Zesshou Symphogear. For their work on Uta no☆Prince-sama♪ Maji Love Kingdom Movie, his music production collective Elements Garden was among the winners for "Best Soundtrack" selected by fans for the 2019 Newtype Anime Awards.
Character PV
Official site: https://visualprison.com/
Official Twitter: @visualprison
Source: PR Times