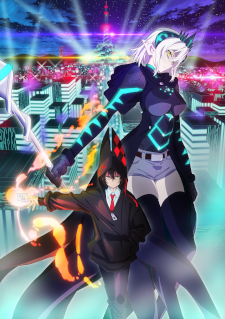 Aniplex opened an official website for a media mix project titled Build Divide on Monday. The project will include a trading card game and a television anime, the latter titled Build Divide: #000000 (Code Black). The website revealed the main staff, a teaser visual (pictured), and a teaser promotional video.
Introduction
"I can see it. The way I can win..."
"This time I will beat him. So come at me again... accept! 'Bloom, gambler of souls!'"
In New Kyoto, a city governed by the "King," one's worth is determined by his or her strength in the Build Divide trading card game. Rumors swirl about New Kyoto and its King.
"If you defeat the King in Build Divide, any wish will be fulfilled." And in order to challenge the King, one must participate in the TCG battle known as Rebuild, and the "Key" must be completed.
Everyone has a wish they long to have fulfilled. Teruto Kurabe, a boy who vows to take down the King, and Sakura Banka, the mysterious girl who guides him, throw themselves into the Rebuild battle. With New Kyoto as the stage, the curtain rises and the battle begins for Teruto and his friends!
Build Divide: #000000 (Code Black) will air in two cours. The first cours premieres this October, when Aniplex plans to launch the trading card game. The second cours is scheduled for April 2022.
Staff
Original Creator: Homura Kawamoto (Kakegurui), Hikaru Muno (Kakegurui Trip light novel)
Director: Yuki Komada (Mugen no Juunin: Immortal assistant director)
Series Composition: Yoriko Tomita (Beelzebub-jou no Okinimesu mama., Osananajimi ga Zettai ni Makenai Love Comedy)
Character Design: Shinpei Tomooka (Trinity Seven, Genei wo Kakeru Taiyou)
Studio: LIDENFILMS
Teaser PV
Official site: https://build-divide.com/
Official anime site: https://anime.build-divide.com/
Official Twitter: @build_divide
Source: PR Times