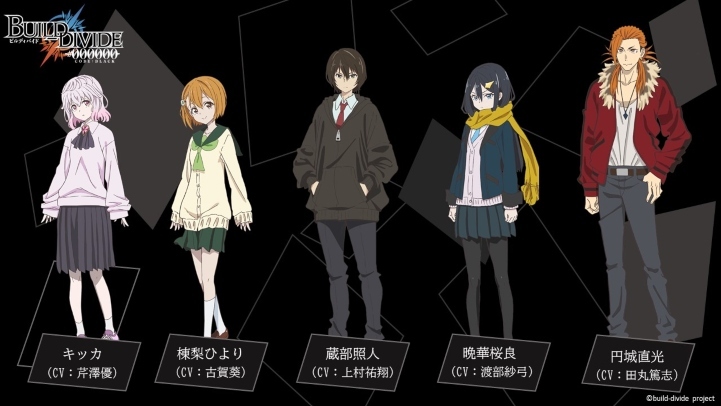 The official website for the Build Divide: Code Black television anime revealed the main cast members on Friday. The first cour of the anime is scheduled to premiere in October 2021, with the second cour set for April 2022.
Cast
Kikka: Yuu Serizawa (Isekai Maou to Shoukan Shoujo no Dorei Majutsu)
Hiyori Munenashi: Aoi Koga (Kaguya-sama wa Kokurasetai: Tensai-tachi no Renai Zunousen)
Teruhito Kurabe: Yuuto Uemura (100-man no Inochi no Ue ni Ore wa Tatteiru)
Sakura Banka: Sayumi Watabe (Sentouin, Hakenshimasu!)
Naomitsu Enjou: Atsushi Tamaru (Gakusen Toshi Asterisk)
Yuki Komada (Mugen no Juunin: Immortal assistant director) is helming the anime at LIDENFILMS. Yoriko Tomita (Beelzebub-jou no Okinimesu mama.) is handling the series composition, and Shinpei Tomooka (Trinity Seven) is designing the characters.
The anime is part of a mixed media project from Aniplex, and writers Homura Kawamoto (Kakegurui), and Hikaru Muno (Kakegurui Trip light novel).
Source: PR Times