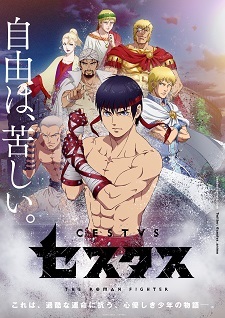 The official website for the television anime adaptation of Shizuya Wazarai's Kentou Ankokuden Cestvs (Cestus: The Legend of Boxing in the Dark Ages) manga and its sequel Shitouden Cestvs (Cestus: Legend of a Desperate Struggle Knee Knuckle Fighter) revealed additional cast, staff, key visual (pictured), opening theme artist, and the first promo on Wednesday. The anime series will air on Fuji TV's Ultra+ programming block on April 15 at 12:55 a.m.
Cast
Zafar: Rikiya Koyama (Baki)
Ruska: Kensho Ono (Dr. Stone: Stone Wars)
Demitorius: Hiroki Touchi (Gibiate)
Nero: Yuuto Uemura (Kingdom)
Agrippina: Kikuko Inoue (Kamisama ni Natta Hi)
Sabina: Aya Endou (Jujutsu Kaisen)
Emden: Ryouta Takeuchi (Great Pretender)
Roxane: Sanae Kobayashi (Yakusoku no Neverland)
Narrator: Akio Ootsuka (Mob Psycho 100)
Hiromu Mineta (Tokyo Ghoul:re 2nd Season) is starring as the protagonist Cestvs. Rock band Dragon Ash is performing the opening theme "Endeavor."
Staff
Series Director: Kazuya Monma (Gunslinger Stratos: The Animation CG direction)
Series Composition: Toshifumi Kawase (Umineko no Naku Koro ni)
Script: Toshifumi Kawase, Kouji Miura (Brave Beats)
3D Character Design: Kei Yoshikuni (Blood-C: The Last Dark)
2D Character Design: Yuuka Shiga (Aikatsu on Parade! animation director), Ako Nakazawa (Namu Amida Butsu!: Rendai Utena animation director)
Art Director: Kouki Nagayoshi (Phantom in the Twilight)
Color Design: Hiroyasu Kanemitsu (Shoujo Shuumatsu Ryokou)
Director of Photography: Teppei Satou (Kemono Jihen)
CG Director: Shigeki Hayashi (Virtual-san wa Miteiru)
Action Coordinator: Yasuhiro Roppongi
Sound Director: Tooru Nakano (Devils' Line)
Bandai Namco Pictures is producing the anime, with Toshifumi Kawase as the chief director. LOGIC&MAGIC is credited with CG production.
The historical action manga was serialized in Young Animal between 1997 and 2009. Hakusensha published the manga in 15 volumes. Wazarai began drawing the sequel manga the following year in the same magazine. The tenth volume will go on sale on March 29.
PV
Source: Anime Recorder