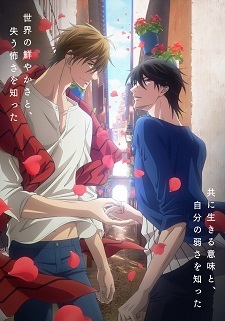 The official website of the Dakaretai Otoko 1-i ni Odosarete Imasu. (Dakaichi: I'm Being Harassed by the Sexiest Man of the Year) anime series announced an anime film on Tuesday. The film, subtitled Spain-hen (Spain arc), will open in Japan this Fall. The website revealed a teaser visual (pictured) and teaser trailer.
Staff
Director: Naoyuki Tatsuwa (Dakaretai Otoko 1-i ni Odosarete Imasu.)
Script: Yoshimi Narita (Zutto Mae kara Suki deshita.: Kokuhaku Jikkou Iinkai)
Character Design: Minako Shiba (Hypnosis Mic: Division Rap Battle - Rhyme Anima), Chisato Kawaguchi (Devils Line)
Music: Masaru Yokoyama (A3! Season Spring & Summer)
Studio: CloverWorks
Distribution: Aniplex
Cast
Junta Azumaya: Yuuki Ono (Koi to Producer: EVOL×LOVE)
Takato Saijou: Hiroki Takahashi (Scared Rider Xechs)
Kazuomi Usaka: Kousuke Toriumi (Meiji Tokyo Renka)
Kiyotaka Arisu: Wataru Hatano (Dance with Devils)
Chihiro Ayagi: Takuya Satou (Yuukoku no Moriarty)
Ryou Narumiya: Yuuma Uchida (Banana Fish)
The anime series adapts Hashigo Sakurabi's boys' love manga, which originally began in B-boy magazine in July 2013 before transferring to Junk! Boy the following year, and currently serialized in Magazine Be x Boy. Libre published the seventh volume last June. Dakaichi has a cumulative four million copies of its volumes in print.
CloverWorks produced a 13-episode television anime in Fall 2018, roughly adapting the first five volumes. Aniplex of America licensed the anime series and streamed it with subtitles on Crunchryoll.
Teaser Trailer
Note: The video is region-locked; click here for an alternative link.
Official site: https://dakaretai-1st.com/
Official Twitter: @dakaretai_1st
Source: PR Times