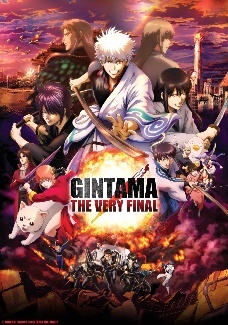 American film production and distribution company Eleven Arts announced its acquisition of Gintama: The Final (Gintama: The Very Final) anime film on Monday.
Synopsis
This is the actual ending.
The countdown to destruction has begun! All will join to reclaim an Edo in grave peril! Earth is facing its darkest days, and the members of the Odd Jobs must come together to save it from an otherworldly menace.
Old allies Gintoki, Takasugi, and Katsura strive their hardest for their own ideals, but standing in their way is someone with whom they share a sad history: Utsuro, an alternate personality of their former teacher and mentor, Shouyou. Having been spawned by Altana, the energy that fuels all planets, this immortal fiend has regenerated multiple times until finally becoming Utsuro, the ultimate enemy... And he intends to take down the entire world in order to end his own life.
Gintoki and the others set out to fulfill the wishes of their teacher Shouyou and thwart Utsuro's plans. Shinpachi, Kagura, the Shinsengumi, members of the Kabuki District, and even former enemies will join their fight.
As Utsuro's power grows, Takasugi fights for his very life. Will Gintoki be able to put an end to all this?! (Source: Eleven Arts)
Gintama: The Final opened in Japan on January 8, marking the conclusion to the anime series. The film adapted the final chapters (699–704) of Hideaki Sorachi's adventure comedy manga and featured original materials.
Gintama began serialization in 2003 and ended its run in Weekly Shounen Jump in September 2018. The manga transferred to Jump GIGA afterwards for three consecutive issues before making another switch to the official Gintama application and concluding in June 2019. Shueisha published the 77th and final volume in August that year.
Sunrise produced a special episode for the Jump Festa Anime Tour in September 2005. The first anime season debuted in Spring 2006 and ran for 201 episodes until Winter 2010, which was followed by six more seasons between 2011 and 2018. The manga also received two anime films that premiered in 2010 and 2013, among several original video anime episodes.
Sentai Filmworks distributed the first 49 episodes and the first anime film from 2010 to 2012 on DVD and Blu-ray, respectively. Crunchyroll re-licensed the anime series and released episodes 266–291 through Funimation in March 2018. The second part of the release containing episodes 292–316 shipped in September 2018.
VIZ Media began publishing the series in English through its Shounen Jump Advanced imprint in 2007 before the release was discontinued with the 23rd volume in 2011. The manga has also been localized in multiple foreign languages.
Source: Press Release