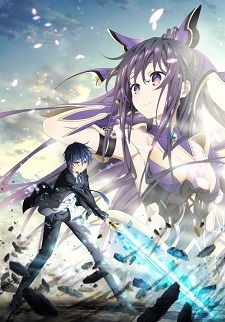 The Date A Live stage at the Light Novel Expo event revealed the main staff, cast, and a teaser visual (pictured) for its fourth anime season on Sunday. Date A Live IV will begin airing in October 2021. The cast members will reprise from the previous anime installments.
Staff
Director: Jun Nakagawa (Date A Bullet: Dead or Bullet, High School Fleet Movie)
Series Composition: Fumihiko Shimo (Musaigen no Phantom World, IS: Infinite Stratos)
Character Design: Naoto Nakamura (High School Fleet, Egao no Daika)
Music: Gou Sakabe (Date A Live, Digimon Adventure tri.)
Studio: GEEK TOYS
Cast
Shidou Itsuka: Nobunaga Shimazaki (Fate/Grand Order: Zettai Majuu Sensen Babylonia)
Tooka Yatogami: Marina Inoue (Hagure Yuusha no Aesthetica)
Origami Tobiichi: Misuzu Togashi (Seitokai no Ichizon)
Kotori Itsuka: Ayana Taketatsu (High School DxD)
Yoshino: Iori Nomizu (Sora no Otoshimono)
Kurumi Tokisaki: Asami Sanada (Mahou Shoujo Lyrical Nanoha A's)
Kaguya Yamai: Maaya Uchida (Domestic na Kanojo)
Yuzuru Yamai: Sarah Emi Bridcutt (Shinmai Maou no Testament)
Miku Izayoi: Minori Chihara (Kyoukaisenjou no Horizon)
Natsumi: Ayumi Mano (Dungeon ni Deai wo Motomeru no wa Machigatteiru Darou ka II)
Date A Live adapts Koushi Tachibana's sci-fi romance light novel, which he launched under the Fujimi Fantasia Bunko label in March 2011 with illustrations by Tsunako. Kadokawa published the 22nd and final volume last March. The light novel has a cumulative 6 million copies of its volumes in print.
AIC Plus+ produced the first anime season in Spring 2013. The second season by Production IMS premiered in 10 episodes the following Spring. The Date A Live: Mayuri Judgment anime film screened in Japan in August 2015. Date A Live III, the third and latest season by J.C.Staff, aired in Winter 2019.
Funimation licensed the anime series in North America and released the first two seasons on Blu-ray and DVD in June 2014 and March 2016, respectively. The third season shipped on home video last April.
An anime film adaptation of Yuuichirou Higashide's Date A Live Fragments: Date A Bullet spin-off light novel premiered in two parts on August 14 and November 20 last year.
Source: Press Release, Dengeki Online