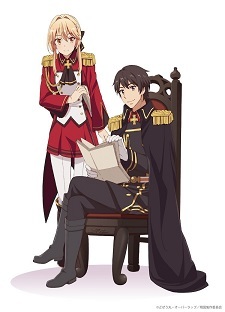 The official website for the television anime adaptation of Dozeumaru's Genjitsu Shugi Yuusha no Oukoku Saikenki (How a Realist Hero Rebuilt the Kingdom) light novel series revealed additional cast on Friday. The anime is scheduled to premiere in July.
Cast
Aisha Udgard: Ikumi Hasegawa (86)
Carla Vargas: Aimi (BanG Dream!)
Hakuya Kwonmin: Kazuyuki Okitsu (Gate: Jieitai Konaochi nite, Kaku Tatakaeri)
Juna Doma: Reina Ueda (Dr. Stone)
Poncho Panacotta: Masaaki Mizunaka (Isekai Maou to Shoukan Shoujo no Dorei Majutsu)
Tomoe Inui: Moeka Kishimoto (Shokei Shoujo no Virgin Road)
Yuusuke Kobayashi (Re:Zero kara Hajimeru Isekai Seikatsu) and Inori Minase (Dungeon ni Deai wo Motomeru no wa Machigatteiru Darou ka) star as Souma Kazuya and Liscia Elfrieden, respectively.
The opening theme, "Hello Horizon," will be performed by lead actress Inori Minase. Carla Vargas' voice actress Aimi is performing the ending theme, "Kazanear." Both songs will be released in July.
Takashi Watanabe (Heavy Object, Shakugan no Shana) will be helming the series at J.C.Staff. Gou Zappa (Yuukoku no Moriarty) and Hiroshi Oonogi (Fullmetal Alchemist: Brotherhood) are writing the scripts, Mai Ootsuka (Kono Yo no Hate de Koi wo Utau Shoujo YU-NO) is designing the characters, and Akiyuki Tateyama (Yuru Camp△) is composing the music.
Dozemaru initially published the fantasy novel on the Shousetsuka ni Narou website in 2015 before switching to Pixiv the following year. Overlap published the first volume in May 2016, and the 13th volume was released on September 25.
A manga adaptation with art by Satoshi Ueda was serialized on the Comic Gardo website beginning in July 2017. Overlap released the sixth volume on November 25.
Source: Ota☆Suke