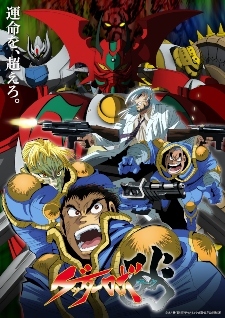 The official website of the Getter Robo Arc television anime announced 11 additional cast members on Friday. The anime is scheduled to premiere on July 4 at 9:00 p.m. on AT-X, followed by Tokyo MX, BS Sky PerfecTV!, and BS11.
Cast
Benkei Kuruma: Kiyoyuki Yanada (Shin Getter Robo)
Tairu: Nozomu Sasaki (Mugen no Juunin: Immortal)
Dr. Saotome: Takayuki Sugou (Baki)
Dr. Shikishima: Youhei Tadano (Great Pretender)
Captain Iga Toshi: Mitsuo Iwata (Jujutsu Kaisen (TV))
Queen Meldusa: Romi Park (Kill la Kill)
Koumei: Takaya Hashi (Youjo Senki)
McDonald: Fumihiko Tachiki (Neon Genesis Evangelion)
Ryou Nagare: Sumi Shimamoto (Giant Robo the Animation: Chikyuu ga Seishi Suru Hi)
Dr. Han: Kenichi Ogata (Boku no Hero Academia 2nd Season)
Hideo Ishikawa (Naruto) is reprising the role of Ryouma Nagare from previous installations in the franchise.
Jun Kawagoe (Cyborg 009: The Cyborg Soldier) is helming the anime at Bee Media. Tadashi Hayakawa (Mazinkaiser SKL) is handling the script and series composition. Hideyuki Motohashi (Saint Seiya: Soul of Gold) is designing the characters, and Yoshichika Kuriyama (Cyborg 009 VS Devilman) is composing the music.
Ken Ishikawa and Go Nagai serialized the follow-up manga to Getter Robo Go from 2001 to 2003 in Super Robot Magazine. Futabasha originally published the manga in three volumes from 2002 to 2004, and republished the manga twice in 2007 and 2016.
Source: animate Times