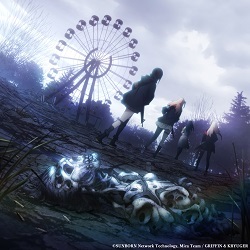 The official website for the television anime adaptation of Sunborn Network's Girls' Frontline smartphone game unveiled the main cast, a teaser visual (pictured), and teaser promotional video on Thursday. The anime series by Asahi Production will premiere in 2021.
Cast
M4A1: Haruka Tomatsu (Sword Art Online: Alicization)
M16A1: Nozomi Yamane (Azur Lane the Animation)
ST AR-15: Emiri Katou (Log Horizon: Entaku Houkai)
M4 SOPMOD II: Yukari Tamura (Dokyuu Hentai HxEros)
Sunburn Network Technology company began developing the smartphone game in early 2015 with it being released in Mainland China first in May 2016. It was subsequently released in South Korea the following June, and in English in May 2018. The game was then released in Japan under the title Dolls Frontline in August 2018 due to the original name having been trademarked by a different registrant.
Girls' Frontline serves as a prequel to MICA Team's 2013 role-playing game Codename: Bakery Girl, an enhanced version of the doujin circle's kinetic visual novel Girl of the Bakehouse.
BigFireBird Animation (Dahuo Niao Donghua) produced a 24-episode net anime series that ran between July and December 2019 with a second season having streamed between October and December of last year.
Teaser PV
Souce: animate Times