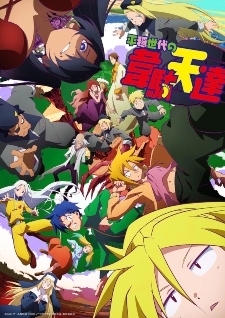 The MAPPA Stage 2021: 10th Anniversary event revealed supporting cast, staff, the opening theme artist, and a third promotional video for the Heion Sedai no Idaten-tachi (Idaten Deities in the Peaceful Generation) television anime on Sunday.
The anime series adapting Amahara and Cool-kyou Shinja's action fantasy manga will begin airing on July 23 at 12:55 a.m. on Fuji TV's noitanimA programming block, among other stations.
Cast
Prontea: Akira Ishida (Chain Chronicle: Haecceitas no Hikari)
Gil: Shizuka Itou (Beelzebub)
Pisara: Asami Seto (Tate no Yuusha no Nariagari)
Nickel: Sumire Uesaka (Overlord)
Collie: Shizuka Ishigami (Rakudai Kishi no Cavalry)
Nept: Masuo Amada (Gate: Jieitai Kanochi nite, Kaku Tatakaeri)
Miku: Mariya Ise (Nanatsu no Taizai)
Brandy: Youko Honna (Mobile Suit Gundam 00)
Takeshita: Mitsuru Miyamoto (Kekkai Sensen)
Wolf: Cho (Kengan Ashura)
Staff
Chief Animation Director: Nao Ootsu (Monster Strike the Movie: Sora no Kanata), Masaru Kitao (Doukyonin wa Hiza, Tokidoki, Atama no Ue.)
Concept Art: Sky Emma
Art Director: Seiki Tamura (Osomatsu-san)
Color Design: Chikako Kamada (Banana Fish)
3DCG Director: Takuma Kaneko (Shakunetsu Kabaddi episode director)
Director of Photography: Atsushi Kanou (number24)
Editing: Keisuke Yanagi (Jujutsu Kaisen (TV))
Sound Director: Yukio Nagasaki (Akudama Drive)
Music: Yoshiaki Dewa (Kino no Tabi: The Beautiful World - The Animated Series)
J-Pop artist Tatsuya Kitani is performing the opening theme "Seija no Koushin," previewed in the promotional video below.
Seimei Kidokoro (Haikara-san ga Tooru Movie 2: Hana no Tokyo Dai Roman) is directing the anime series at MAPPA, with Hiroshi Seko (Dorohedoro) handling the series composition and script. Nao Ootsu (Beastars) is designing the characters.
Shinja began serializing the manga adaptation of Amahara's original web manga in Young Animal in August 2018. Hakusensha published the third volume on August 11 last year, with the fourth volume set for release on June 29.
PV 3
Source: Comic Natalie