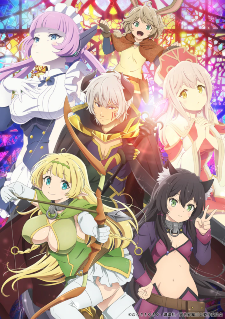 The AnimeJapan 2021 stage for Isekai Maou to Shoukan Shoujo no Dorei Majutsu at the Avex Pictures booth revealed additional staff members and a second promotional video for the second season on Saturday. The new season is scheduled to premiere on April 8 at 1:28 a.m. on TBS, followed by BS-TBS.
Staff
Sub-character Design: Rina Morita (Adachi to Shimamura chief animation director, sub-character design)
Chief Animation Director: Akio Ujiie (Nurarihyon no Mago animation director), Kouji Watanabe (Date A Live III), Nagisa Takahashi (Jujutsu Kaisen key animation), Rena Yamauchi (Digimon Adventure tri. 1: Saikai animation director), Nana Yonemoto (Buddy Complex key animation)
Monster Design, Prop Design: Tetsuya Kawaishi (5-toubun no Hanayome)
Art Director: Masami Saitou (Romeo x Juliet)
Color Design: Yumi Aburaya (Kiss x Sis (TV))
Director of Photography: Nozomi Shitari (Fruits Basket 1st Season) (T2 Studio)
Editing: Wataru Uchida (Chikyuu to no Yakusoku)
Music Production: Avex Pictures
Satoshi Motoyama (Shinsekai yori) is returning as the sound director for the second season.
Voice actress Yuu Serizawa, who plays Shera L. Greenwood in the anime, performs the opening and ending theme songs with producers DJ KOO and MOTSU, titled "EVERYBODY! EVERYBODY!" and "YOU YOU YOU," respectively.
Satoshi Kuwahara (Dagashi Kashi 2) is helming the anime at Tezuka Productions and Okuruto Noboru, with Kazuyuki Fudeyasu (Ishuzoku Reviewers) in charge of the series composition. Shizue Kaneko (Lost Song) is the character designer.
PV 2
Source: Comic Natalie