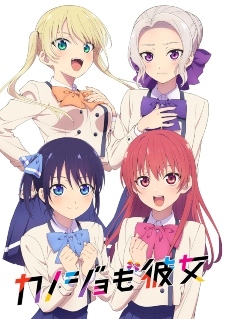 Main cast, additional staff, the first key visual (pictured), and a teaser promotional video for the television anime adaptation of Hiroyuki's Kanojo mo Kanojo (Girlfriend, Girlfriend) manga were revealed at the NBCUniversal Entertainment Japan both at AnimeJapan 2021 on Sunday. The anime series will debut on MBS, TBS, and BS-TBS' Animeism programming block in July 2021.
Cast
Naoya Mukai: Junya Enoki (Jujutsu Kaisen (TV))
Saki Saki: Ayane Sakura (5-toubun no Hanayome)
Nagisa Minase: Azumi Waki (Midara na Ao-chan wa Benkyou ga Dekinai)
Rika Hoshizaki: Ayana Taketatsu (Kawaikereba Hentai demo Suki ni Natte Kuremasu ka?)
Shino Kiryuu: Rie Takahashi (Yuru Camp△)
Staff
Chief Animation Director: Akiko Toyoda (Adachi to Shimamura)
Script: Keiichirou Oochi (Hinamatsuri), Kazuhiko Inukai (Isekai no Seikishi Monogatari), Mayumi Morita (Chouyaku Hyakuninisshu: Uta Koi.)
Art Director: Masami Saitou (Gamers!)
Color Design: Yumi Aburaya (5-toubun no Hanayome)
Director of Photography: Toshiya Kimura (T2 Studio) (Nanatsu no Taizai)
Editing: Wataru Uchida (Conquest) (Allison to Lillia)
Sound Director: Satoshi Motoyama (Jaku-Chara Tomozaki-kun)
Sound Production: Half H.P Studio
Music: Miki Sakurai (Machikado Mazoku), Tatsuhiko Saiki (Otome Game no Hametsu Flag shika Nai Akuyaku Reijou ni Tensei shiteshimatta...)
Music Production: Myrica Music
Satoshi Kuwahara (Dagashi Kashi 2) is helming the anime at Tezuka Productions. Keiichirou Oochi is in charge of the series composition, and Akiko Toyoda (Ikebukuro West Gate Park sub-character design) is the character designer.
Hiroyuki began serializing the romantic comedy manga in Weekly Shounen Magazine last March. Kodansha is shipping the fifth volume on April 16.
Kodansha USA licensed the manga in English on February 22, and will release the first volume on April 6.
Teaser PV
Source: Comic Natalie