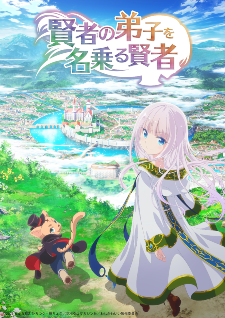 Kadokawa opened an official website for the television anime adapting Hirotsugu Ryuusen's Kenja no Deshi wo Nanoru Kenja (She Professed Herself Pupil of the Wise Man.) light novel on Friday, unveiling the main staff, lead cast, the first promotional video, and key visual (pictured). The anime is scheduled to premiere in 2021.
Voice actress Nichika Oomori (Jashin-chan Dropkick, Darwin's Game) will play the protagonist, Mira.
Staff
Director: Keitarou Motonaga (Katanagatari, Utawarerumono: Itsuwari no Kamen)
Series Composition: Takamitsu Kouno (Absolute Duo, Cheating Craft)
Character Design: Kumi Horii (Soukou Musume Senki, IS: Infinite Stratos 2)
Music: Gou Sakabe (Seiken Tsukai no World Break, Date A Live)
Sound Director: Yasunori Ebina (Plunderer, Arte)
Studio: Studio A-CAT
Ryuusen originally launched the adventure fantasy light novel on the Shousetsuka ni Narou website in April 2012. Micro Magazine began publishing the novel with illustrations by Choko Fuji under its GC Novels imprint in June 2014. The 14th volume shipped on November 30 last year.
Seven Seas Entertainment licensed the light novel and its manga adaptation in English on November 3. The first volumes of the manga and light novel are scheduled to be released in July and August, respectively.
PV
Official site: https://kendeshi-anime.com/
Official Twitter: @kendeshi_anime
Source: Moca News