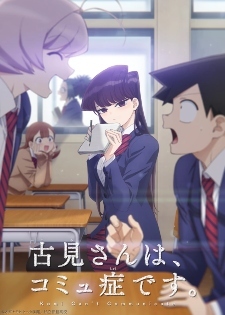 Publisher Shogakukan opened an official website for a television anime adaptation of Tomohito Oda's romantic comedy manga Komi-san wa, Comyushou desu. (Komi Can't Communicate) on Tuesday. The website also revealed the lead cast, staff, teaser visual (pictured), and a teaser promotional video. The series will premiere on TV Tokyo in October 2021.
Aoi Koga (Kaguya-sama wa Kokurasetai) and Gakuto Kajiwara (Enen no Shouboutai) are starring as the lead characters Shouko Komi and Hitohito Tadano, respectively. Rie Murakawa (Re:Zero kara Hajimeru Isekai Seikatsu) is voicing the character Najimi Osana.
Staff
Chief Director: Ayumu Watanabe (Uchuu Kyoudai, Koi wa Ameagari no You ni)
Director: Kazuki Kawagoe (Koisuru Asteroid episode director, Beyblade Burst God episode director)
Series Composition: Deko Akao (Hitomi Mieno) (Noragami, Arakawa Under the Bridge)
Studio: OLM (Utawarerumono, Odd Taxi)
Synopsis
It's Shouko Komi's first day at the prestigious Itan Private High School, and she has already risen to the status of the school's Madonna. With long black hair and a tall, graceful appearance, she captures the attention of anyone who comes across her. There's just one problem though—despite her popularity, Shouko is terrible at communicating with others.
Hitohito Tadano is your average high school boy. With his life motto of "read the situation and make sure to stay away from trouble," he quickly finds that sitting next to Shouko has made him the enemy of everyone in his class! One day, knocked out by accident, Hitohito later wakes up to the sound of Shouko's "meow." He lies that he heard nothing, causing Shouko to run away. But before she can escape, Hitohito surmises that Shouko is not able to talk to others easily—in fact, she has never been able to make a single friend. Hitohito resolves to help Shouko with her goal of making one hundred friends so that she can overcome her communication disorder. [Written by MAL Rewrite]
Oda originally launched the manga as a one-shot in Weekly Shounen Sunday in September 2015, which began regular serialization in the magazine the following May. Shogakukan published the 20th volume on February 18, with the 21st volume scheduled for a May 18 release. Komi-san wa, Comyushou desu. has a cumulative 5.2 million copies of its compiled volumes in circulation.
VIZ Media licensed the manga in English in November 2018 and shipped the 12th volume on April 13. The manga has also been published in multiple foreign languages.
Teaser PV
Official site: http://komisan-official.com/
Manga official page: https://websunday.net/rensai/komisan/
Manga official Twitter: @comisanvote
Source: animate Times