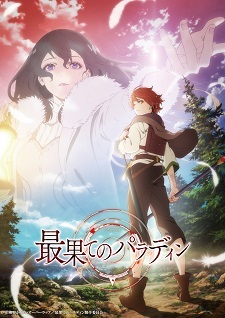 A television anime adaptation of Kanata Yanagino's Saihate no Paladin (The Faraway Paladin) light novel was announced at the Overlap Bunko 8th Anniversary event on Saturday. The publisher also opened an official website, revealing the main staff, cast, a key visual (pictured), and promotional video. The anime series will broadcast in October 2021.
Synopsis
In a city of the dead, long since ruined and far from human civilization, lives a single human child. His name is Will, and he's being raised by three undead: the hearty skeletal warrior, Blood; the graceful mummified priestess, Mary; and the crotchety spectral sorcerer, Gus. The three pour love into the boy, and teach him all they know.
But one day, Will starts to wonder: "Who am I?" Will must unravel the mysteries of this faraway dead man's land, and unearth the secret pasts of the undead. He must learn the love and mercy of the good gods, and the bigotry and madness of the bad. And when he knows it all, the boy will take his first step on the path to becoming a Paladin. (Source: J-Novel Club)
Staff
Director: Yuu Nobuta (High School Fleet, Kuma Kuma Kuma Bear)
Series Composition: Tatsuya Takahashi (Kenja no Mago, Tonari no Kyuuketsuki-san)
Character Design: Kouji Haneda (Scared Rider Xechs, Orenchi no Furo Jijou)
Studio: Children's Playground Entertainment (Hatena☆Illusion, Tsukiuta. The Animation 2)
Cast
William G. Maryblood: Maki Kawase (Hyakuren no Haou to Seiyaku no Valkyria)
Blood: Katsuyuki Konishi (JoJo no Kimyou na Bouken Part 5: Ougon no Kaze)
Mary: Yui Horie (Kono Subarashii Sekai ni Shukufuku wo!)
Augustus: Nobuo Tobita (Tokyo Ravens)
Meneldor: Ayumu Murase (Shoukoku no Altair)
Yanagino originally launched the adventure fantasy novel on the Shousetsuka ni Narou website in May 2015. Overlap began printing the series with illustrations by Kususaga Rin the following March and published the fourth volume in September 2017.
Mutsumi Okuhashi (Hai to Gensou no Grimgar) began serializing a manga adaptation on the Comic Gardo web manga portal in September 2017. Overlap published the sixth volume last November, with the seventh volume scheduled for an April 25 release.
J-Novel Club licensed both the light novel and manga adaptation in English and released the fourth novel volume in April 2018. The fourth manga volume went on sale on January 26, with the fifth volume planned for release on April 27.
PV
Official site: https://farawaypaladin.com/
Official Twitter: @faraway_paladin
Novel special site: https://over-lap.co.jp/narou/865541045/
Source: Anime! Anime!