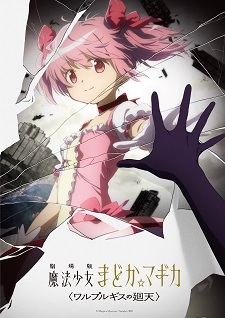 The 10th Anniversary Stage for Mahou Shoujo Madoka★Magica (Puella Magi Madoka Magica) announced a new anime film on Sunday, subtitled Walpurgis no Kaiten. The film will serve as a theatrical sequel to the third film in the franchise Hangyaku no Monogatari (Rebellion). The event also revealed the lead staff, cast, a teaser visual (pictured) and teaser promo.
Staff
Original Work: Magica Quartet
Chief Director: Akiyuki Shinbou (Mahou Shoujo Madoka★Magica)
Script: Gen Urobuchi (Psycho-Pass)
Original Character Design: Ume Aoki (Hidamari Sketch)
Character Design: Junichirou Taniguchi (Gekkan Shoujo Nozaki-kun)
Alternate Space Design: Gekidan Inu Curry (Magia Record: Mahou Shoujo Madoka☆Magica Gaiden)
Music: Yuki Kajiura (Fate/Zero)
Studio: Shaft
Cast
Madoka Kaname: Aoi Yuuki (Boogiepop wa Warawanai (2019))
Homura Akemi: Chiwa Saitou (Rewrite)
Mami Tomoe: Kaori Mizuhashi (Mahou Shoujo Lyrical Nanoha)
Kyouko Sakura: Ai Nonaka (Sayonara Zetsubou Sensei)
Nagisa Momoe: Kana Asumi (Haiyore! Nyaruko-san)
Kyuubey: Emiri Katou (Lucky☆Star)
The original psychological thriller magical girl anime series aired in 12 episodes in Winter 2011. The Hajimari no Monogatari (Beginnings) and Eien no Monogatari (Eternal) compilation films premiered in Japan in October 2012. The Hangyaku no Monogatari (Rebellion) sequel film opened the following October.
Teaser PV
Official site: https://www.madoka-magica.com/
Official Twitter: @madoka_magica
Source: PR Times