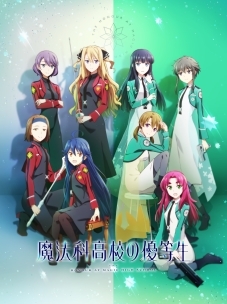 The official website for the television anime adaptation of Yu Mori's Mahouka Koukou no Yuutousei spin-off manga revealed four new cast, staff and a second key visual (pictured). The anime is scheduled to premiere on July 3 at 11:30 p.m. on Tokyo MX, Tochigi TV, Gunma TV, AT-X and BS11. The series will be available to stream on Abema and dAnime store at the same time.
Cast
Airi Isshiki: Lynn (Hataraku Saibou Black)
Shiori Kanou: Atsumi Tanezaki (Beastars)
Touko Tsukushiin: Ibuki Kido (Eromanga-sensei)
Saho Mizuo: Erika Ishitobi (Centaur no Nayami)
Returning Cast
Miyuki Shiba: Saori Hayami (86)
Tatsuya Shiba: Yuuichi Nakamura] (Fruits Basket: The Final)
Amelia Eimi Akechi Goldie: Asuka Nishi (Black Clover)
Mayumi Saegusa: Kana Hanazawa (5-toubun no Hanayome)
Mari Watanabe: Marina Inoue (Wonder Egg Priority)
Suzune Ichihara: Mai Nakahara (Higurashi no Naku Koro ni Gou)
Azusa Nakajou: Saki Ogasawara (Boku no Hero Academia 4th Season)
Honoka Mitsui: Sora Amamiya (Kanojo, Okarishimasu)
Shizuku Kitayama: Yuiko Tatsumi (Little Busters!)
Staff
Chief Animation Director: Hideki Furukawa (Non Non Biyori Nonstop), Ryousuke Yamamoto (Mitsuboshi Colors), Takao Sano (Isekai Shokudou)
Mechanical Design: Jimmy Stone (Ore no Imouto ga Konna ni Kawaii Wake ga Nai chief animation direction assistant)
Clothing Design: Hirotomi Mayu (Dokyuu Hentai HxEros prop design)
Key Animator: Nobuhiro Niwa (Chaos Dragon: Sekiryuu Seneki)
Art Director: Lee Beom-Seon (Strike the Blood IV)
Color Design: Erika Tsukino (Taimadou Gakuen 35 Shiken Shoutai)
3D Director: Saitou Takeshi (Ore wo Suki nano wa Omae dake ka yo)
Director of Photography: Hirooka Gaku (Darwin's Game)
Editing: Yuuji Kondou (Shokugeki no Souma: Gou no Sara)
Sound Director: Satoshi Motoyama (Adachi to Shimamura)
Sound Effects: Yuuji Furuya (Wonder Egg Priority)
Producer: Barnum Studio
The music group Sangatsu no Phantasia is performing the opening theme "101". The JPOP idol group Philosophy no Dance will perform the ending theme "Double Standard".
Hideki Tachibana (Dungeon ni Deai wo Motomeru no wa Machigatteiru Darou ka II) is helming the anime alongside Takashi Watanabe (Heavy Object) at studio Connect. Tamai Tsuyoshi (Hangyakusei Million Arthur) is in charge of series composition and the script, with Ryousuke Yamamoto (Dokyuu Hentai HxEros) and Takao Sano (Isekai Shokudou) are handling character design. Taku Iwasaki (Noragami) is composing the music.
The spin-off manga launched in Dengeki Daioh in April 2012 and ended on June 27. Kadokawa shipped the 11th and final volume on September 10. Yen Press licensed the manga in English in March 2015 and released the tenth volume last November. A sequel manga is currently under planning.
Source: Animate Times