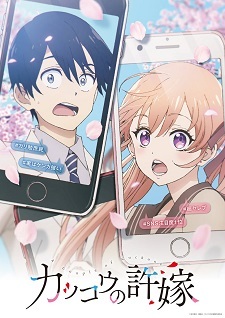 Publishing company Kodansha announced a television anime adaptation of Miki Yoshikawa's Kakkou no Iinazuke (A Couple of Cuckoos) manga on Tuesday, scheduled for a 2022 airing. Kadokawa also opened an official website, revealing the lead cast, staff, the first key visual (pictured), and first promotional video.
Kaito Ishikawa (Tate no Yuusha no Nariagari) and Akari Kitou (Tsurezure Children) are starring as Nagi Umino and Erika Amano, respectively.
Staff
Chief Director: Hiroaki Akagi (Karakai Jouzu no Takagi-san, Mashiro no Oto)
Director: Yoshiyuki Shirahata (Great Pretender episode director, Watashitachi, Luck Logic-bu! assistant episode director)
Series Composition: Yasuhiro Nakanishi (Kaguya-sama wa Kokurasetai: Tensai-tachi no Renai Zunousen, Jibaku Shounen Hanako-kun)
Character Design: Aya Takano (Himouto! Umaru-chan, Shirokuma Cafe)
Studio: Shin-Ei Animation, SynergySP
Synopsis
16-year-old super-studier Nagi Umino, second-year student at the Meguro River Academy high school, was switched at birth. On his way to a dinner to meet his birth parents, he accidentally meets the brash, outspoken, Erika Amano, who is determined to make Nagi her fake boyfriend as she never wants to actually marry. But once Nagi makes it to dinner, he finds his parents have decided to resolve the hospital switch by conveniently having him marry the daughter his birth parents raised...who turns out to be none other than Erika herself! (Source: Kodansha USA)
Prior to serialization, Yoshikawa published a one-shot in Weekly Shounen Magazine in September 2019, approximately 2.5 years after ending Yamada-kun to 7-nin no Majo (Yamada-kun and the Seven Witches). The romantic comedy manga joined the magazine's regular lineup the following January. Kodansha published the fifth volume on January 15, with the sixth volume shipping on April 16.
Kodansha USA licensed the manga in English last November and released the third volume on March 9.
PV
Official site: http://cuckoos-anime.com/
Official Twitter: @cuckoo_anime
Source: PR Times