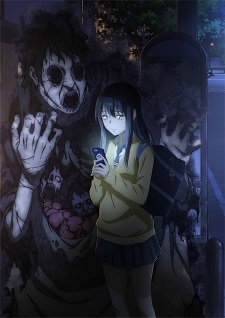 A television anime adaptation of Tomoki Izumi's Mieruko-chan manga was announced by Kadokawa on Thursday. The publishing company also opened an official website, revealing the main staff, a teaser visual (pictured), teaser promotional video, and its 2021 premiere.
Synopsis
Miko is a typical high school student whose life turns upside down when she suddenly starts to see gruesome and hideous monsters. Despite being completely terrified, Miko carries on with her daily life, pretending not to notice the horrors that surround her. She must endure the fear in order to keep herself and her friend Hana out of danger, even if that means coming face to face with the absolute worst. Blending both comedy and horror, Mieruko-chan tells the story of a girl who tries to deal with the paranormal by acting indifferent toward it. [Written by MAL Rewrite]
Staff
Director: Yuuki Ogawa (Ishuzoku Reviewers, FLCL Progressive)
Series Composition, Script: Kenta Ihara (Youjo Senki, Vinland Saga)
Character Design, Chief Animation Director: Chikashi Kadekaru (Juuni Taisen, Sora no Otoshimono: Forte)
Monster Design: Makoto Uno (High School DxD Hero, Witchblade)
Studio: Passione (Higurashi no Naku Koro ni Gou, Rokka no Yuusha)
Izumi originally posted the comedy horror manga on his Twitter account in September 2018, which garnered over 60k retweets and 180k likes. Kadokawa's ComicWalker web manga portal began serializing the manga in November that year. The fourth volume shipped on September 23, with the fifth volume scheduled for release on March 22.
Yen Press licensed the manga in English last July and published the second volume on February 23. The third volume is planned for a June 22 release.
Mieruko-chan ranked tenth in the 5th Tsugi ni Kuru Manga Taisho in 2019—a joint award by Kadokawa's Da Vinci literature magazine and streaming platform Niconico.
Teaser PV (Fear ver.)
Official site: https://mierukochan.jp/
Official Twitter: @mierukochan_PR
Source: Press Release, Comic Natalie
Mieruko-chan on MAL