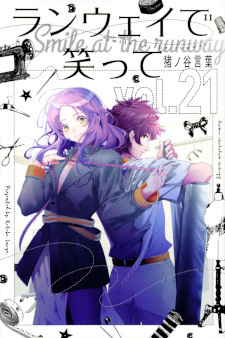 Kotoba Inoya's Runway de Waratte (Smile Down the Runway) manga will conclude in four chapters, according to a post on its official Twitter account on Wednesday.
Inoya began serializing the fashion-themed manga in Weekly Shounen Magazine in March 2017. Kodansha published the 21st volume on May 17, with the 22nd and final volume shipping on August 17. Runway de Waratte has a cumulative 3 million copies of its volumes in print.
Ezόla adapted the manga into a 12-episode television anime that aired during the Winter 2020 season. Funimation simulcast the show and subsequently streamed it with an English dub.
Kodansha Manga has published the series digitally in English since September 2019. The 19th volume will be released on July 6.
Synopsis
Chiyuki Fujito is an aspiring model whose dream is to take part in Paris Fashion Week; however, she lacks the proper height to even be considered for the simplest of modeling gigs. Similarly, Ikuto Tsumura is a poor high school student who wants to design clothes, but he has instead decided to skip college and head straight into the workforce to support his family.
When the two cross paths, they come to the conclusion that no matter how difficult it may seem, they will do what they can to achieve their goals and prove that one's circumstances do not determine their course in life. And so begin both of their journeys, destined to meet again on the runway. [Written by MAL Rewrite]
Source: Official Twitter