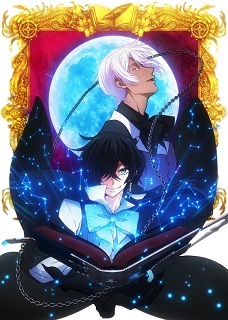 Aniplex opened an official website for a television anime adaptation of Jun Mochizuki's Vanitas no Carte (The Case Study of Vanitas) manga on Sunday, revealing the lead cast, production staff, a teaser visual (pictured), and teaser promo. The anime series will begin airing in July 2021.
Synopsis
There once lived a vampire known as Vanitas, hated by his own kind for being born under a blue full moon, as most arise on the night of a crimson one. Afraid and alone, he created the "Book of Vanitas," a cursed grimoire that would one day take his vengeance on all vampires; this is how the story goes at least.
Vanitas no Carte follows Noé, a young man travelling aboard an airship in 19th century Paris with one goal in mind: to find the Book of Vanitas. A sudden vampire attack leads him to meet the enigmatic Vanitas, a doctor who specializes in vampires and, much to Noé's surprise, a completely ordinary human. The mysterious doctor has inherited both the name and the infamous text from the Vanitas of legend, using the grimoire to heal his patients. But behind his kind demeanor lies something a bit more sinister... [Written by MAL Rewrite]
Voice actors Natsuki Hanae (Kemono Jihen) and Kaito Ishikawa (Tokyo Ravens) are starring as Vanitas and Noé, respectively. Singer-songwriter Sasanomaly (Natsume Yuujinchou Go) is performing the opening theme "Sora to Kyo."
Staff
Director: Tomoyuki Itamura (Owarimonogatari)
Series Compostion: Deko Akao (Hitomi Mieno) (Noragami)
Character Design, Chief Animation Director: Yoshiyuki Itou (Concrete Revolutio: Choujin Gensou)
Sub-character Design: Tomoyo Nakayama (Maou-sama, Retry! character design)
Prop Design: Shinpei Ishibashi
Visual Concept, Color Design: Izumi Takizawa (3-gatsu no Lion)
Art Design: Shuuhei Tada (Beastars)
Art Director: Shingo Kanai (Hortensia Saga)
Director of Photography: Zhang Yingying (Mob Psycho 100 photography)
3DCG Director: Takuma Miyake (Carole & Tuesday)
Editing: Rie Matsubara (Fate/Extra: Last Encore)
Sound Director: Kazuhiro Wakabayashi (Bungou Stray Dogs)
Sound Effects: Shizuo Kurahashi (Dororo), Sachiko Nishi (SK8)
Studio: Bones
Mochizuki began drawing the historical fantasy manga in Monthly Gangan Joker in December 2015, nine months after completing Pandora Hearts. Square Enix published the eighth volume on June 22 last year. Vanitas no Carte has a cumulative 5.5 million copies of its volumes in circulation.
Yen Press began publishing the manga in English simultaneously with the Japanese release in December 2015. The seventh volume shipped last July, with the eighth volume scheduled to ship on May 18.
Teaser PV
Note: The video is region-locked; click here for an alternative link.
Official site: https://vanitas-anime.com/
Official Twitter: @vanitas_anime
Source: PR Times