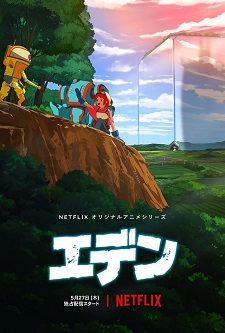 Netflix Japan revealed additional cast members, a key visual (pictured), and a second trailer for the original anime series Eden on Wednesday. The four-episode sci-fi adventure series will debut worldwide exclusively on Netflix on May 27.
Cast:
S566: Tarusuke Shingaki (Noblesse)
Zurich: Yuuki Kuwahara (Arifureta Shokugyou de Sekai Saikyou)
Geneve: Yuuko Kaida (Mekakucity Actors)
Kyouko Hikami (Code:Breaker) and Kentarou Itou (Golden Kamuy) are starring as A37 and E92, respectively. Marika Kouno (Uma Musume: Pretty Derby (TV)) and Kouichi Yamadera (Ranma ½) are voicing the characters Sara and Zero.
Yasuhiro Irie (Fullmetal Alchemist: Brotherhood) is directing the series at CGCG Studio, with Kimiko Ueno (Oushitsu Kyoushi Heine) handling the series composition. Toshihiro Kawamoto (Cowboy Bebop) is designing the characters, and Kevin Penkin (Tate no Yuusha no Nariagari) is composing the music.
Trailer 2
Source: animate Times