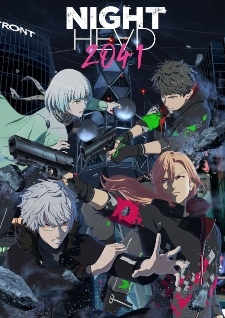 The official website of the Night Head 2041 television anime revealed on Wednesday 20 additional cast members, the first key visual (pictured), promotional video, and the opening theme artist. The anime series is scheduled to premiere on July 15 at 1:55 a.m. on Fuji TV's +Ultra programming block.
Cast
Michio Sonezaki: Kazuyuki Okitsu (JoJo no Kimyou na Bouken (TV))
Reika Mutou: Lynn (Akanesasu Shoujo)
Daisuke Honda: Yasuhiro Mamiya (Dr. Stone)
Kimie Kobayashi: Youko Hikasa (Yuukoku no Moriarty 2nd Season)
Yui Akiyama: Reina Ueda (SSSS.Gridman)
Shouko Futami: Kaori Maeda (Love Live! Nijigasaki Gakuen School Idol Doukoukai)
Miki Tachibana: Aya Endou (Shinsekai yori)
Suguru Kakitani: Tomoaki Maeno (Death Parade)
Mike Fujiki: Chikahiro Kobayashi (Beastars)
Kouji Kazama: Tomokazu Sugita (Nanatsu no Taizai: Imashime no Fukkatsu)
Emily Shinjou: Saori Hayami (Kanata no Astra)
Roshkov: Kousei Hirota (Cowboy Bebop)
Victor: Tarusuke Shingaki (Fate/Zero)
Naoto Kirihara (Childhood): Hiroki Nanami (Bishounen Tanteidan)
Naoya Kirihara (Childhood): Shizuka Ishigami (Vinland Saga)
Takuya Kuroki (Childhood): Natsumi Fujiwara (Kemono Jihen)
Yuuya Kuroki (Childhood): Makoto Koichi (100-man no Inochi no Ue ni Ore wa Tatteiru)
Akiko Okuhara: Mari Yokoo (Shokugeki no Souma)
Roujin Misaki: Motomu Kiyokawa (Neon Genesis Evangelion)
Kyoujirou Mikuriya: Banjou Ginga (Mobile Suit Gundam)
Staff
Original Sub-character Design: Akiko Asaki (Kimi no Koe wo Todoketai)
Background Concept Art: Masato Hakuta (Etotama: Eto Tamashii art director)
Matte Paint Director: Minoru Oonishi (Gibiate art director)
Art Setting: Ryuu Sakamoto (Lord El-Melloi II-sei no Jikenbo: Rail Zeppelin Grace Note) (Bic Studio)
Art Board: Bic Studio
Color Design: Fusako Nakao (Fullmetal Alchemist: Brotherhood)
Director of Photography: Kazuhiko Takahashi (Revision)
Editing: Akari Saitou (Vivy: Fluorite Eye's Song)
Sound Director: Jin Aketagawa (Mobile Suit Gundam: Iron-Blooded Orphans)
Who-ya Extended (Jujutsu Kaisen, Psycho-Pass 3) is performing the opening theme "Icy Ivy," which is previewed in the promotional video below.
Takamitsu Hirakawa (Revision CG Director) is helming the anime at 3D animation studio Shirogumi. Original creator of the 1992 live-action drama series, George Iida (Night Head Genesis), is handling the scripts and series composition. Oh! Great (Infini-T Force) is drawing the original character designs. Yutaka Yamada (Great Pretender) is composing the music.
The original Night Head sci-fi television drama aired on Fuji TV from October 1992 to March 1993, and later inspired a 24-episode television anime adaptation that aired in 2006.
PV
Source: animate Times