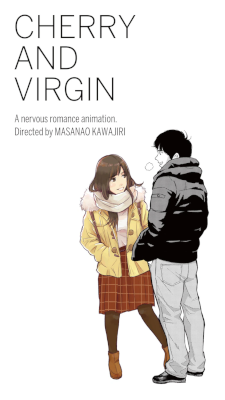 Toei Video opened an official Twitter account and crowdfunding campaign for an original anime film titled Cherry and Virgin on Tuesday. The film, marking Masanao Kawajiri's feature film directorial debut, will be released as early as Summer 2022.
Synopsis
Cherry and Virgin is a romantic comedy featuring a 32-year-old "eromanga" author Ryou and a 28-year-old "fujoshi'' Ami. Neither character is great at interacting with members of the opposite gender—Ryou is somewhat of an otaku and defenseless against women, and Ami does not have a good impression of 3D men. After a fateful encounter, the story follows the two as they learn to navigate a sea of interpersonal relationships and come to better understand the bitter and sweet aspects of modern relationships.
Actors Takashi Ookado and Yaeko Kiyose are portraying Ryou Honda and
Ami Enomoto, respectively. Katsuya Takayanagi drew the character designs for Ryou Honda and Ryou Nakahara designed Ami Enomoto.
Kawajiri previously worked as a director and storyboarder on the Stella Jogakuin Koutou-ka C³-bu television anime. His most recent work, Aru Nihon no Ekaki Shounen (A Japanese Boy Who Draws), is a short anime film that incorporates different art and animation styles as the characters in the story progress through different stages of their lives. Kawajiri continues this trend with Cherry and Virgin, which will feature rotoscoping and traditional cel animation.
Kawajiri expressed that he does not view this project to be in the same vein as mainstream Japanese animation; rather than a story with characters in their teens brimming with potential, this story is a painful yet light-hearted look at a woman nearing her 30s attempting to grasp the remainder of her fleeting youth. He goes on to say that the film is meant to be a slightly challenging and uncomfortable drama, but the discussions of themes in the story such as "the differences between men and women," "dreams versus reality," and "soul-searching and self-fulfillment" are refreshing and provide for a richer story.
Toei Video and Kawajiri launched the crowdfunding campaign to raise funds for advertising and hope to also submit the film to overseas film festivals. The campaign has raised 416,000 yen (approx. US$3,800) toward its 3 million yen (approx. US$27,550) goal as of April 28 and will end on August 16.
Production Teaser
Crowdfunding page: https://motion-gallery.net/projects/candv2022
Official Twitter: @candvMovie
Source: Comic Natalie
News submitted by 2KIRA