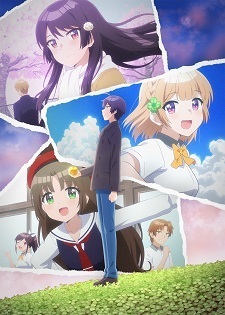 The official website for the television anime adaptation of Shuichi Nimaru's Osananajimi ga Zettai ni Makenai Love Comedy (Osamake: Romcom Where The Childhood Friend Won't Lose) light novel announced five supporting cast members on Monday.
Cast
Rena Asagi: Tomoyo Takayanagi (Koisuru Asteroid)
Midori Shida: Akane Fujita (Eromanga-sensei!)
Aoi Shida: Miyuri Shimabukuro (Carole & Tuesday)
Akane Shida: Natsumi Hioka (Busou Shoujo Machiavellianism)
Shion Ooragi: Kaeda Hondo (Irozuku Sekai no Ashita kara)
The five new cast members will be joining the main cast comprised of Yoshitsugu Matsuoka (Sakura-sou no Pet na Kanojo) as Sueharu Maru, Inori Minase (5-toubun no Hanayome) as Kuroha Shida, Ayane Sakura (Charlotte) as Shirokusa Kachi, and Saori Oonishi (Saenai Heroine no Sodatekata) as Maria Momosaka.
Takashi Naoya (3D Kanojo: Real Girl) is directing and designing the characters at Doga Kobo, which began airing on April 14. Yoriko Tomita (Beelzebub-jou no Okinimesu mama) is handling the series composition.
Nimaru began writing the romantic comedy light novel, also known by its short name Osamake, under the Dengeki Bunko imprint in June 2019, featuring illustrations by Ui Shigure. Kadokawa published the seventh volume on April 9.
Source: Comic Natalie