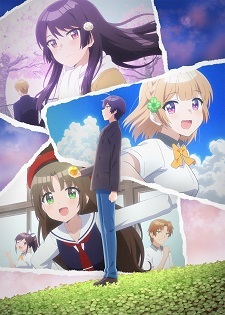 The Osananajimi ga Zettai ni Makenai Love Comedy (The Romcom Where The Childhood Friend Won't Lose!) stage at the Light Novel Expo event unveiled additional staff, the first key visual (pictured), and a new promotional video on Sunday.
The anime series adapting Shuichi Nimaru's romantic comedy light novel will begin airing on April 14 on 9:00 p.m. on AT-X, followed by Sun TV, Tokyo MX, KBS Kyoto, TV Aichi, and BS11. d Anime Store will also stream the anime.
Voice actor Takuma Terashima (Maou Gakuin no Futekigousha, Log Horizon) is joining the cast as Mitsuru Abe.
Staff
Assistant Director: Matsuo Asami (3D Kanojo: Real Girl 2nd Season)
Script: Yoriko Tomita (Ore no Kanojo to Osananajimi ga Shuraba Sugiru), Ayumu Hisao (Kono Oto Tomare!), Seiko Takagi (Wotaku ni Koi wa Muzukashii)
Prop Design: Megumi Matsumoto (Mikakunin de Shinkoukei), Hiroyuki Ogura (Tada-kun wa Koi wo Shinai animation director)
Chief Animation Director: Atsushi Soga (Sewayaki Kitsune no Senko-san), Katsuhiro Kumagai (Gabriel DropOut)
Background Art: Mukuo Studio (White Album 2)
Color Design: Genta Makabe (Love Lab)
Director of Photography: Seiichi Sugiwara (Koisuru Asteroid)
Editing: Kentarou Tsubone (Real-T) (Ore wo Suki nano wa Omae dake ka yo)
Sound Director: Satoshi Motoyama (Jaku-Chara Tomozaki-kun)
Sound Effects: Yuika Shiraishi (Yesterday wo Utatte)
Sound Production: Delfi Sound
Music: Akiyoshi Yasuda (3D Kanojo: Real Girl)
Music Production: Kadokawa
Singer-songwriter Riko Azuna (Kumo Desu ga, Nani ka?) is performing the opening theme "Chance! & Revenge!" Voice actresses Inori Minase (5-toubun no Hanayome ∬) and Ayane Sakura (Seiren) are performing the ending theme "Senryakuteki de Yosoku Funou na Love Comedy no Ending Kyoku" as their respective characters,
Takashi Naoya (Yahari Ore no Seishun Love Comedy wa Machigatteiru. Zoku episode director) is directing and designing the characters at Doga Kobo. Yoriko Tomita (Beelzebub-jou no Okinimesu mama.) is in charge of the series composition.
Nimaru launched the romantic comedy light novel—also known by its short name Osamake—under the Dengeki Bunko imprint in June 2019, featuring illustrations by Ui Shigure. Kadokawa shipped the sixth volume on February 22 and bundled a drama CD with its limited edition. Osamake has a cumulative 500,000 copies of its volumes in circulation.
Ryou Itou began a manga adaptation in Monthly Comic Alive in November 2019. Kadokawa released the second volume on February 22 and included a separate drama CD with its limited edition.
PV
Source: Press Release, Dengeki Online