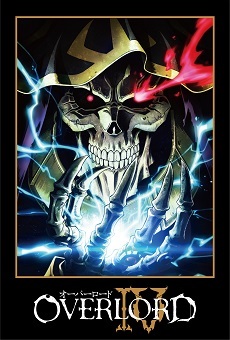 The Overlord broadcast commemorative special program on streaming platform Niconico announced a fourth season and an anime film for Kugane Maruyama's light novel on Saturday. The new film will premiere under the subtitle Sei Oukoku-hen (Holy Kingdom Arc). The event also revealed a teaser visual for the fourth season (pictured). Lead staff and cast are returning from the previous anime installments at Madhouse.
Maruyama originally launched the dark fantasy series on the novel publishing website Arcadia in May 2010 and later on Shousetsuka ni Narou. Kadokawa began publishing the novel with illustrations by so-bin in July 2012 and shipped the 14th volume last March. Overlord has a cumulative 8 million copies of its volumes in print.
The light novel was first adapted into a television anime in Summer 2015 by animation studio Madhouse. The second season premiered in Winter 2018, followed by a third season in Summer of the same year. The first season was compiled into a two-part film in February and March 2017.
Fugin Miyama began drawing a manga adaptation in the Comp Ace magazine in November 2014. Kadokawa published the 14th compiled volume on November 26 last year.
Funimation licensed the anime series in North America and released the three seasons on home video in November 2016, January 2019, and June 2019.
Yen Press licensed the light novel in English in October 2015 and began publishing the volumes the following May. The 12th volume shipped last June, with the 13th volume planned for a June 1 release. The company also publishes Miyama's manga adaptation and released the 12th volume on May 26 last year.
Overlord placed first in the 2017 edition and fourth in both the 2018 and 2019 editions in the tankobon category of Kono Light Novel ga Sugoi! rankings..
Official site: http://overlord-anime.com/
Official Twitter: @over_lord_anime
Source: Press Release