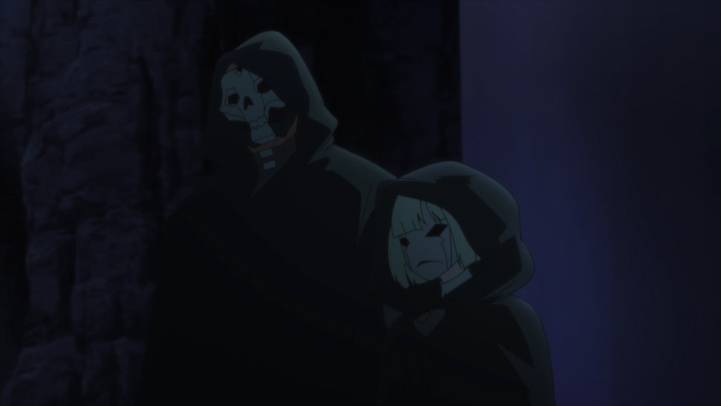 The official website for the Sakugan (formerly Sacks&Guns!!) television anime revealed two additional cast members on Tuesday. The sci-fi mecha anime premieres this fall.
Tsuyoshi Koyama (Sword Art Online: Alicization) will play Boss, the masked leader of an armed group called Shibito that targets and attacks central control towers in each colony. Misaki Watada (Sirius) will play Muuro, a member of Shibito who accompanies Boss. Despite her delicate appearance, she wields a gigantic, knife-like long sword with ease.
Kanon Amane (previously known as Kanon Obata) was selected from seven finalists for the role of the anime's heroine, Memenpu, in December 2019 following a public audition featuring 1400 participants. The main cast was then revealed last December. Yoshimasa Hosoya (Dorohedoro), Minami Tsuda (Toaru Kagaku no Railgun S), and Hikaru Midorikawa (Yu☆Gi☆Oh) were recently cast as Merooro, Linda, and Rufus, respectively. Tsuda and Midorikawa were revealed to be voicing characters in the anime at the time of the main cast announcement.
Staff
Director, Series Composition: Junichi Wada (Caligula (TV), Shuumatsu Nani Shitemasu ka? Isogashii Desu ka? Sukutte Moratte Ii Desu ka? director)
Script: Shingo Nagai (Girly Air Force), Mariko Mochizuki (Somali to Mori no Kamisama series composition), Toshizou Nemoto (Shangri-La)
Original Character Design: Yuji Iwahara (Darker than Black: Kuro no Keiyakusha)
Character Design: Shunpei Mochizuki (Tate no Yuusha no Nariagari animation director, assistant animation director)
Concept Design: Kazuma Kouda (Ingress the Animation)
Monster Concept Design: Shouji Kawamori (Koukyoushihen Eureka Seven mechanical design)
Monster Mechanical Design: Hiroyuki Taiga (Accel World mechanical design)
Mechanical Design: Stanislas Brunet (Macross Δ) (Studio No Border)
Prop Design: Takehiro Ishimoto (Boku no Hero Academia the Movie 2: Heroes:Rising), Kenichi Morioka (Hamatora The Animation)
Art Director: Minoru Oonishi (Girls & Panzer) (Bic Studio)
Art Setting: Ryuu Sakamoto (Lord El-Melloi II Sei no Jikenbo: Rail Zeppelin Grace Note) (Bic Studio)
Color Design: Miho Hasegawa (Takamiya Nasuno Desu!: Teekyuu Spin-off) (Hiyori)
Director of Photography: Tsuyoshi Shimura (Senki Zesshou Symphogear XV) (T2 Studio)
Assistant Director: Tenpei Mishio (Beatless episode director)
Editing: Shuji Matsumoto (Macross Δ Movie: Gekijou no Walküre)
3DCG Director: Hiroyuki Gotou (Hakata Tonkotsu Ramens)
2D Works: Noriko Nakamura (Mushoku Tensei: Isekai Ittara Honki Dasu)
Sound Director: Eriko Kimura (Devilman: Crybaby)
Music: Tatsuya Katou (Dr. Stone)
Sound Production: Tohokushinsha Film Corporation
Music Production: Lantis
Studio: Satelight
Sakugan!! is based on the Sakugan Labyrinth Marker web novel, which was the first of three submissions to Project Anima selected to receive an anime adaptation. Nekotarou Inui first published the web novel on DeNA and NTT Docomo's Everystar (Estar) platform in July 2018 and began publishing the second part of the story earlier this year.
Source: Comic Natalie
Update June 15
The official website for the Sakugan television anime revealed on Tuesday that Hiroshi Kamiya (Bakemonogatari) will play DJ K. The series' first promotional video was also released. It highlights the city of Pinin and features DJ K hosting his radio show Good morning K.
PV
Source: Comic Natalie