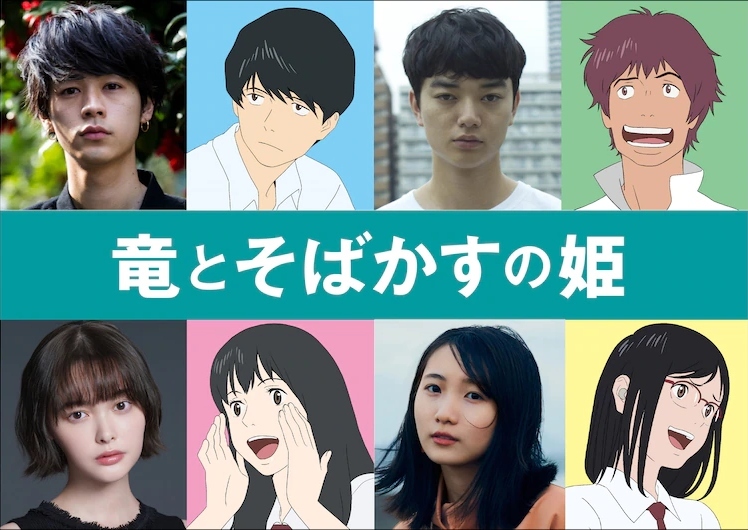 The official website for Mamoru Hosoda's new anime movie Ryuu to Sobakasu no Hime (Belle) revealed four supporting cast on Friday. The new cast will play the schoolmates of the protagonist, Suzu. The anime movie is scheduled to open in theaters in July 2021.
Cast
Shinobu Hisatake: Ryou Narita (Kimi no na Wa.)
Shinjirou Chikami: Shouta Sometani (Bakemono no Ko)
Ruka Watanabe: Tina Tamashiro (Aku no Hana live-action)
Hiroka Betsuyaku: Rira Ikuta (YOASOBI vocalist)
Hosoda is writing and directing the movie at Studio Chizu, and Taisei Iwasaki (Kekkai Sensen, Hisone to Maso-tan) is the music director and composer. Jin Kim (Frozen, Big Hero 6) is the character designer for the protagonist Belle. Irish studio Cartoon Saloon and Wolfwalkers directors Tomm Moore and Ross Stewart are credited as collaborators for the movie.
Source: Cinematoday
Update May 14
The official website for the Ryuu to Sobakasu no Hime (Belle) anime movie revealed four additional cast on Friday.
Cast
Justin: Toshiyuki Morikawa (Mushoku Tensei: Isekai Ittara Honki Dasu)
Jelinek: Kenjirou Tsuda (Gokushufudou)
Swan: Mami Koyama (Fullmetal Alchemist: Brotherhood)
Tarou Hitokawamui, Maru Guttokorae: Mamoru Miyano (Zombieland Saga)
Romanized character names have not been confirmed.
Source: animate Times