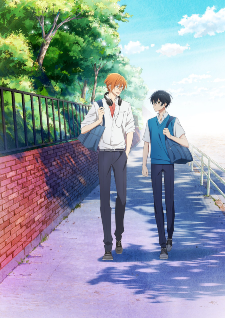 Kadokawa opened an official website for the television anime adaptation of Shou Harusono's Sasaki to Miyano (Sasaki and Miyano) manga on Tuesday, revealing the main staff, cast, and a teaser visual (pictured). The anime is scheduled to premiere in 2022.
Cast
Shuumei Sasaki: Yuusuke Shirai (Sentouin, Hakenshimasu!)
Yoshikazu Miyano: Souma Saitou (Omoi, Omoware, Furi, Furare)
Taiga Hirano: Yoshitsugu Matsuoka (Otome Game no Hametsu Flag shika Nai Akuyaku Reijou ni Tensei shiteshimatta...)
Jirou Ogasawara: Yuuki Ono (Dakaretai Otoko 1-i ni Odosarete Imasu.)
Masato Hanzawa: Yuuma Uchida (Given)
Tasuku Kuresawa: Ryouhei Arai (Shuumatsu Nani Shitemasu ka? Isogashii Desu ka? Sukutte Moratte Ii Desu ka?)
Gonzaburou Tashirou: Mitsuhiro Ichiki (Touken Ranbu: Hanamaru)
Staff
Director: Shinji Ishihira (Super Lovers, Log Horizon)
Assistant Director: Takehiro Ueno (Kochouki: Wakaki Nobunaga episode director)
Series Composition: Yoshiko Nakamura (Gekkan Shoujo Nozaki-kun, Sewayaki Kitsune no Senko-san)
Character Design: Maki Fujii (Zutto Mae kara Suki deshita.: Kokuhaku Jikkou Iinkai, Starry Sky)
Studio: Studio Deen
Harusono began drawing the slice of life school manga in Gene pixiv in February 2016. Kadokawa shipped the seventh volume on November 27 last year. Yen Press licensed the manga in English and will publish the third volume on July 20.
Official site: https://sasamiya.com/
Official Twitter: @sasamiya_anime
Source: Comic Natalie