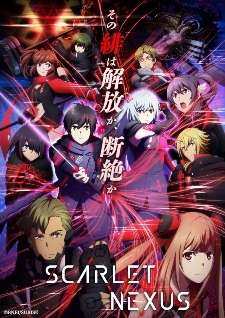 The official website of the Scarlet Nexus television anime revealed the main staff, additional cast, the first key visual (pictured), and first promotional video on Thursday. The anime is scheduled to premiere on July 1 at 10:30 p.m. on Tokyo MX and BS11, followed by Sun TV. Funimation will stream the anime with English subtitles.
Cast
Hanabi Ichijou: Tomomi Mineuchi (Slow Start)
Tsugumi Nazar: Marika Kouno (Isekai wa Smartphone to Tomo ni.)
Gemma Garrison: Ryouta Takeuchi (ID:Invaded)
Luka Travers: Chinatsu Akasaki (Jujutsu Kaisen (TV))
Shiden Ritter: Kengo Kawanishi (Mobile Suit Gundam: Iron-Blooded Orphans)
Arashi Spring: Yui Horie (Persona 4 the Animation)
Kyouka Eden: Yumi Hara (Overlord)
Kagerou Donne: Daisuke Namikawa (Mushoku Tensei: Isekai Ittara Honki Dasu)
Nagi Karman: Yuuma Uchida (Banana Fish)
Naomi Randall: Asuka Nishi (Black Clover)
Staff
Director: Hiroyuki Nishimura (Mobile Suit Gundam: The Origin chief animation director, Shamanic Princess episode director)
Series Composition: Youichi Katou (Monster Strike), Toshizou Nemoto (Macross Δ)
Script: Youichi Katou, Toshizou Nemoto, Akiko Inoue (Nakanohito Genome [Jikkyouchuu])
Character Design: Yuuji Itou (Fate/Grand Order: Zettai Majuu Sensen Babylonia animation director), Hiroyuki Nishimura
Art Director: Osamu Tayama (Juuni Taisen)
Color Design: Nagisa Abe (86)
CG Line Director: Hitomi Itou (Nekopara)
CG Modeling Director: Tatsuya Shimano (Arslan Senki: Fuujin Ranbu)
Director of Photography: Daichi Iseki (No Guns Life)
Editing: Masato Yoshitake (Plunderer)
Music: Hironori Anazawa (Balan Wonderland)
Sound Director: Yayoi Tateishi (Happy Sugar Life)
Planning, Studio: Sunrise
Bandai Namco Entertainment is currently developing the video game and plans to release it on June 25 for PC, Playstation 4, Playstation 5, Xbox One, Xbox Series X and Series S.
PV
Source: Comic Natalie