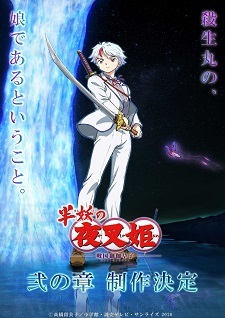 A second season for Hanyou no Yashahime: Sengoku Otogizoushi (Yashahime: Princess Half-Demon) was announced following the airing of its 24th and final episode on Saturday, subtitled Ni no Shou (Second Chapter). The official website also revealed a teaser visual (pictured).
Synopsis
Half-demon twins Towa and Setsuna were always together, living happily in Feudal Japan. But their joyous days come to an end when a forest fire separates them and Towa is thrown through a portal to modern-day Japan. There, she is found by Souta Higurashi, who raises her as his daughter after Towa finds herself unable to return to her time.
Ten years later, 14-year-old Towa is a relatively well-adjusted student, despite the fact that she often gets into fights. However, unexpected trouble arrives on her doorstep in the form of three visitors from Feudal Japan; Moroha, a bounty hunter; Setsuna, a demon slayer and Towa's long-lost twin sister; and Mistress Three-Eyes, a demon seeking a mystical object. Working together, the girls defeat their foe, but in the process, Towa discovers to her horror that Setsuna has no memory of her at all. Hanyou no Yashahime: Sengoku Otogizoushi follows the three girls as they endeavor to remedy Setsuna's memory loss, as well as discover the truth about their linked destinies. [Written by MAL Rewrite]
Hanyou no Yashahime serves as an anime sequel to Rumiko Takahashi's InuYasha franchise, which began airing in Fall 2020. VIZ Media licensed the anime in North and Latin American territories and streamed it on Crunchyroll, Funimation, and Hulu with subtitles. Funimation subsequently began streaming an English dub in November last year.
Teruo Satou (InuYasha (TV) episode director) helmed the anime at Sunrise, and Katsuyuki Sumisawa (InuYasha: Kanketsu-hen) handled the series composition. Yoshihito Hishinuma (Tales of the Abyss) designed the characters, with original creator Rumiko Takahashi credited for the main character designs.
Weekly Shounen Sunday serialized the original InuYasha manga from 1996 to 2008. Sunrise produced a 167-episode anime series that aired from Fall 2000–2004, followed by a 26-episode sequel in Fall 2009. The manga also inspired four anime films between 2000 and 2004.
Official site: http://hanyo-yashahime.com/
Official Twitter: @hanyo_yashahime
Source: animate Times