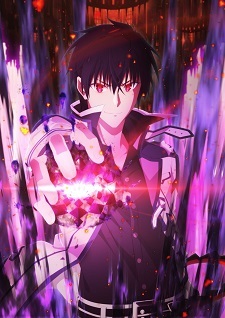 A second anime season for Shuu's Maou Gakuin no Futekigousha: Shijou Saikyou no Maou no Shiso, Tensei shite Shison-tachi no Gakkou e Kayou (The Misfit of Demon King Academy: History's Strongest Demon King Reincarnates and Goes to School with His Descendants) light novel was announced at the Light Novel Expo event on Saturday.
The event also unveiled a teaser visual (pictured) and promotional video. The main staff members will return at animation studio Silver Link. for the second season, which will air in two split cours.
Shuu began penning the fantasy magic action novel on the Shousetsuka ni Narou website in April 2017. Dengeki Bunko began printing the series in March 2018, featuring illustrations by Yoshinori Shizuma (Zero kara Hajimeru Mahou no Sho, Toji no Miko). Kadokawa published the eighth volume last October. Maou Gakuin no Futekigousha has a cumulative 1.8 million copies of its volumes in circulation.
Haruka Kaya began drawing a manga adaptation in Manga UP! web magazine in July 2018. Square Enix released the fourth volume on Friday.
The first anime season aired in 13 episodes in Summer 2020. Aniplex of America licensed the anime in North America and streamed it with subtitles on Crunchyroll, as well as an English dub.
Square Enix licensed the manga in English under its new Manga & Books imprint in July 2019. The third volume shipped on January 26.
Synopsis
In the distant past, a war between humans and demons brought about widespread chaos and bloodshed. To put an end to this seemingly endless conflict, Demon King Anos Voldigoad willingly sacrificed his life, hoping to be reborn in a peaceful future.
In preparation for their king's return, the demon race created the Demon King Academy, an elite institution tasked with determining Anos' identity when he reawakens. He reincarnates two millennia later, but to his surprise, he soon learns that the level of magic in the world has drastically waned during his absence. Moreover, when he enrolls at the academy to reclaim his rightful title, he finds out that demonkind remembers him differently. His personality, his deeds, and even his legacy are all falsified—masked beneath the name of an impostor. This "lack" of common knowledge renders him the academy's outlier—a misfit never before seen in history.
Despite these drawbacks, Anos remains unfazed. As he sets out to uncover those altering his glorious past, he takes it upon himself to make his descendants recognize that their ruler has finally returned. [Written by MAL Rewrite]
Teaser PV
Official site: https://maohgakuin.com/
Official Twitter: @maohgakuin
Source: Dengeki Online
Maou Gakuin no Futekigousha: Shijou Saikyou no Maou no Shiso, Tensei shite Shison-tachi no Gakkou e, Maou Gakuin no Futekigousha: Shijou Saikyou no Maou no Shiso, Tensei shite Shison-tachi no Gakkou e Part 2 on MAL