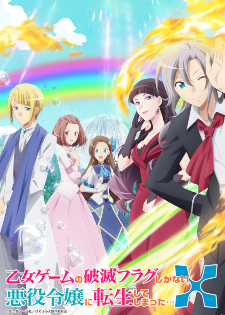 The official website for the Otome Game no Hametsu Flag shika Nai Akuyaku Reijou ni Tensei shiteshimatta… (My Next Life as a Villainess: All Routes Lead to Doom!) television anime revealed on Friday additional cast members, theme song artists, the first key visual (pictured), and promotional video for the second season. The anime series is scheduled to premiere in July 2021.
Cast
Jeffrey Stuart: Takehito Koyasu (SK∞)
Susanna Randall: Sumire Uesaka (Kumo Desu ga, Nani ka?)
Ian Stuart: Yuusuke Shirai (Hypnosis Mic: Division Rap Battle - Rhyme Anima)
Serena Berg: Yui Ogura (Joukamachi no Dandelion)
Pop duo angela (Sidonia no Kishi) and voice actor Shouta Aoi, who plays Gerald Stuart, are once again performing the opening and ending themes "Andante ni Koi o Shite!" and "give me ♡ me," respectively.
Susumu Matsunaga (Battle Girl High School) and Yuki Kuribayashi (Kaguya-sama wa Kokurasetai? Tensai-tachi no Renai Zunousen) are replacing Yuuki Sawairi and Tsutomu Ogasawara as the prop designer 3D director, respectively.
Junko Nakajima, Sayaka Aoki, and Kanade Sakuma are joining Shuu Kanematsu (Clockwork Planet), Hanae Nakamura (5-toubun no Hanayome), Tatsuhiko Saiki (Aggressive Retsuko: We Wish You a Metal Christmas), Sakurai Miki (Adachi to Shimamura), and Natsumi Tabuchi (Joukamachi no Dandelion) as music composers.
Keisuke Inoue (Midara na Ao-chan wa Benkyou ga Dekinai) returns as the director at SILVER LINK.. Other returning staff include scriptwriter Megumi Shimizu (King's Raid: Ishi wo Tsugumono-tachi) and character designer Miwa Ooshima (Baka to Test to Shoukanjuu).
Satoru Yamaguchi began publishing the comedy fantasy light novel in July 2014 on the Shousetsuka ni Narou website. Ichijinsha began publishing the novel with illustrations by Nami Hidaka in August 2015 and shipped the tenth volume on February 20. J-Novel Club licensed the light novel in English in September 2018 and shipped the eighth volume on November 28.
PV
Source: Moca News