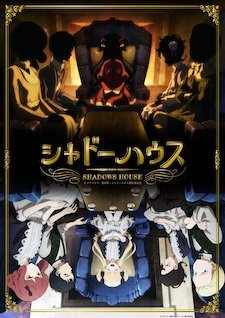 The official website for the television anime adaptation of Soumatou's Shadows House manga announced additional cast, staff, ending theme artist, and a key visual (pictured) on Monday. The anime is set to premiere on April 11 on Tokyo MX, BS11, Gunma TV, Tochigi TV at 12:30 a.m., followed by MBS, BS Asahi, WOWOW,. and Fukushima TV.
Cast
Louise/Roux: Ayane Sakura (Boku no Hero Academia)
John/Sean: Koudai Sakai (Mayoiga)
Patrick/Ricky: Reiji Kawashima (Fumetsu no Anata e)
Lam/Shirley: Shino Shimoji (Hakumei to Mikochi)
Edward: Wataru Hatano (Bungou Stray Dogs)
The five new cast members will be joining the main cast Yuu Sasahara (Tonari no Kyuuketsuki-san) and Akari Kitou (Machikado Mazoku), who are starring as Emilyko and Kate, respectively.
ReoNa (Happy Sugar Life) is performing the ending theme "Nai Nai."
Staff
Art Setting: Mitsuki Maeda (Tsugu Tsugumomo)
Art Supervision: Hiroshi Katou (Nami yo Kiite Kure)
Art Director: Hirofumi Sakagami (Grancrest Senki), Chihiro Gotou (Tenki no Ko background art)
Prop Design: Yuuko Yoshida (Kujira no Kora wa Sajou ni Utau)
Color Design: Sachiko Urushido (Persona 5 the Animation)
Director of Photography: Yoshiki Obata (Hello World)
2D Works: Aya Kubota (The [email protected] Movie: Kagayaki no Mukougawa e!)
CG Director: Katsuaki Miyaji (Horimiya)
Editing: Kazuhiro Nii (Kami no Tou)
Sound Director: Kisuke Koizumi (Infinite Dendrogram)
Sound Production: Half H.P Studio
Kazuki Oohashi (Saenai Heroine no Sodatekata ♭ episode director) is helming the anime series at CloverWorks. Toshiya Oono (Yakusoku no Neverland) is in charge of the series composition, and Chizuko Kusakabe (Pumpkin Scissors) is providing the character designs. Kenichiro Suehiro (Granbelm) is composing the music.
The slice of life supernatural manga has been serialized in Weekly Young Jump since September 2018. Tonari no Young Jump and the Yanjan! application also serialize a colored version simultaneously. Shueisha published the sixth volume on October 16, with the seventh volume scheduled for release on March 18.
Source: animate Times
Update March 13
The official website for Shadows House announced seven additional cast members between Wednesday and Saturday.
Cast
Sara/Mia: Sara Oonishi (Shokugeki No Souma: Gou no Sara)
Mary Rose/Rosemary: Mai Nakahara (Munou na Nana)
Babara/Babi: Rie Kugimiya (Kingdom)
Ragnar: Daisuke Kishio (Kami no Tou)
Dorothy: Youko Hikasa (Goblin Slayer)
Joseph: Kenta Miyake (Boku No Hero Academia)
Sophie: Yumiri Hanamori (Wonder Egg Priority)
Source: Official Twitter