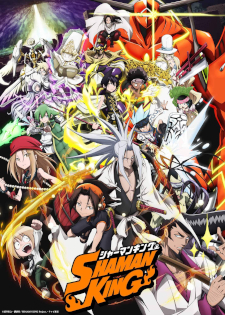 The official Twitter account for the new Shaman King television anime revealed additional cast members on Friday. Shaman King is currently airing in Japan and will stream on Netflix outside of Japan beginning August 9.
Cast
Luchist Lasso: Kenichirou Matsuda (Koukaku Kidoutai Arise)
Opacho: Megumi Hayashibara (Neon Genesis Evangelion)
Peyote Díaz: Mitsuaki Madono (Busou Renkin)
Zang-Ching Hang: Tsuguo Mogami (Shingeki no Kyojin)
Turbine (Mohammed Tabarsi): Anri Katsu (Toaru Majutsu no Index)
Matilda Matisse: Wakana Minami (Macross Δ)
Kanna Bismarch: Saki Endou (Wakaokami wa Shougakusei!)
Marion Phauna: Kei Shindou (Boku no Hero Academia)
Big Guy Bill (Bill Burton): Takahiro Fujiwara (The King of Fighters: Destiny)
Boris Tepes Dracula: Ryoutarou Okiayu (Fate/Zero)
Damayaji (Kouji Yamada): Kousuke Takaguchi (Yu☆Gi☆Oh! Zexal Second)
Hayashibara and Madono are reprising their roles from the original anime adaptation of Hiroyuki Takei's shounen manga of the same name. A character visual for Brocken (Blocken) Meyer was also revealed alongside the new cast announcements.
Jouji Furuta (Nanatsu no Taizai: Imashime no Fukkatsu) is directing the anime at Bridge. Shouji Yonemura (Fairy Tail script) is credited with series composition and Yuki Hayashi (Boku no Hero Academia) is composing the music.
The first volume of Hayashi's original soundtrack goes on sale on Friday, and future installments will be released on the last Friday of each month until further notice.
Source: Comic Natalie