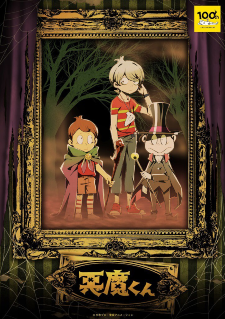 Toei Animation announced during the Manga Ookoku Tottori Seitan 99-nen Mizuki Shigeru Seitansai event on Sunday that Shigeru Mizuki's Akuma-kun manga will receive a new anime adaptation. The event also revealed the main staff and a teaser visual (pictured).
The anime is one of four projects commemorating Mizuki's 100th year birthday anniversary. Mizuki died in 2015 from heart failure at the age of 93.
Synopsis
When Mr. Sato, a company employee at the world's largest electronics company, is called upon by his Boss to tutor his only son in exchange for a high ranking position within the organization, things couldn't have been peachier. At least, that's what he thought...
Little did he know that his student was Ichiro Matsushita, a young boy with the mind of a genius and a terrifying hidden agenda. It doesn't take long for Sato to realize that he is the second home tutor in as many weeks that has been sent to teach the little boy. What's even more unnerving is that the previous Tutor's whereabouts appear to be a mystery...
The little boy's true identity is revealed when he puts Sato under a curse, turning him into a lizard man and making him one of servants. Little Ichiro Matsushita is none other than "Akuma-kun" boy genius and master of black magic. His goal? To open the portal between hell and earth, summon forth hell's most powerful demons, and enlist their help in taking over the world!
Junichi Satou (Nakitai Watashi wa Neko wo Kaburu, Amanchu!) returns from the 1989–90 anime adaptation as the chief director, with Fumitoshi Oizaki (Centaur no Nayami, Romeo x Juliet) serving as the series director. Hiroshi Oonogi (Gegege no Kitarou (2018), Phantasy Star Online 2: Episode Oracle) is handling the series composition.
Mizuki published the original supernatural manga with Toshansha in three volumes between 1963 and 1964. He followed up with multiple installments in the franchise over the years.
Toei Animation produced a 42-episode television anime and two anime movies in 1989 and 1990.
Source: Comic Natalie
Akuma-kun (Shin Anime) on MAL