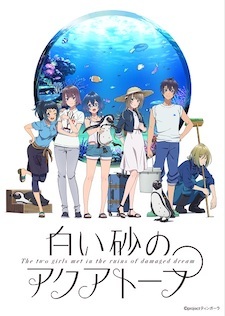 The official website of P.A. Works' Shiroi Suna no Aquatope (Aquatope of White Sand) original television anime revealed three additional cast members and a second key visual (pictured) on Friday. The anime will begin airing on July 8 on Tokyo MX, BS Fuji, MBS, and Ryuukyuu Broadcasting.
Cast
Kai Nakamura: Shinba Tsuchiya (Ballroom e Youkoso)
Kuuya Yakamashi: Youhei Azakami (Kuromukuro)
Ojii: Hiroshi Yanaka (Free!)
The three additional cast members will be joining the main cast consisting of Rikako Aida (Love Live! Sunshine!!) and Miku Itou (Futsuu no Joshikousei ga [Locodol] Yattemita.), who are playing Fuuka Miyaza and Kukuru Misakino, respectively.
Toshiya Shinohara (Nagi no Asu kara) is helming the anime, with Yuuko Kakihara (Orange) handling the series composition. U35 (Lapis Re:LiGHTs) is in charge of the original character design, and Yuki Akiyama (Irozuku Sekai no Ashita kara) is serving as both the character designer and chief animation director. Yoshiaki Dewa (Flying Witch) is composing the music.
Source: animate Times