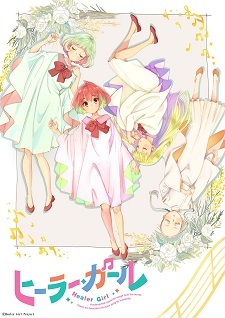 Bandai Namco Arts opened an official website for an original television anime titled Healer Girl on Friday, revealing the lead staff, cast, and a teaser visual (pictured).
The story will follow four girls who seek to use their songs to heal and soothe the people of their world. The tagline reads, "Kindhearted, powerful songs heal the world. These are beautiful miracles sung by humanity."
Staff
Director: Yasuhiro Irie (Fullmetal Alchemist: Brotherhood, Shakunetsu no Takkyuu Musume)
Series Composition, Script: Noboru Kimura (Haiyore Nyaruko-San, Mondaiji-tachi ga Isekai kara Kuru Sou Desu yo?)
Character Design: Yukie Akiya (Princess Principal, Sora no Method)
Studio: Studio 3Hz (Flip Flappers, Sword Art Online Alternative: Gun Gale Online)
Cast
Kana Fujii: Karin Isobe (Just Because!)
Reimi Gojou : Marina Horiuchi (KutsuDaru.)
Hibiki Morishima: Akane Kumada (Rifle Is Beautiful)
Sonia Yanagi: Chihaya Yoshitake (Tropical-Rouge! Precure ending theme performance)
The main cast form the chorus cover group Healer Girls, who have garnered recognition for their activities on BS11's music program Anison Days. The group is signed under the music label Lantis.
Official site: https://healer-girl.jp/
Official Twitter: @HealerGirlAnime
Healer Girls Lantis page: https://www.lantis.jp/special/healergirls_1stlive/
Source: animate Times
News submitted by 2KIRA