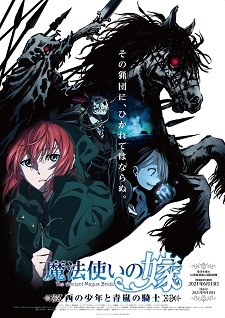 Production company Twin Engine unveiled a new original video anime trilogy for Kore Yamazaki's Mahoutsukai no Yome (The Ancient Magus' Bride) manga on Wednesday, subtitled Nishi no Shounen to Seiran no Kishi (Boy from the West and Knight of the Blue Storm). The special edition of volumes 16–18 will bundle the OVA episodes, with the 16th volume shipping on September 10. Pre-orders for the volume will be accepted through June 13.
Studio Kafka, a new animation studio established by Twin Engine, will lead the OVA trilogy's production, succeeding Wit Studio. Kouichi Naruse, former production desk staff at Wit Studio, will serve as the studio's representative director. Animators Takahiko Abiru (Vinland Saga) and Kazuaki Terasawa (Overlord II episode director) are among the studio's affiliates.
Synopsis
The story takes place shortly before Cartaphilus took a nap and Chise became an auditor at the academy.
Elias and his friends help Chise prepare for the academy, where in the middle of everyday life, Spriggan visits the mansion on a spooky horse with the words, "The appearance of the ghost hunting association is unusual this time."
Gabriel, an ordinary boy who just moved from London, was bored of his environment of parting with friends, being in an unfamiliar location, and everything else. Sitting by the window and glancing beyond, he spotted a purple smoke and decided to chase after it, looking to escape his boredom. Though it should not, the world of the boy begins to converge with the wizards, who live on the other side behind a thick veil.
Staff
Director: Kazuaki Terasawa (Shoukoku no Altair episode director)
Script: Aya Takaha (Mahoutsukai no Yome), Youko Yonaiyama (Uma Musume: Pretty Derby)
Character Design: Hirotaka Katou (Hoozuki no Reitetsu)
Chief Animation Director: Kouhei Tokuoka (Bungou Stray Dogs animation director)
Color Design: Yuuko Kobari (Great Pretender)
Art Director: Seiki Tamura (Seirei no Moribito)
Director of Photography: Mayo Suzuki (Rolling☆Girls)
CG Director: Katsuaki Miyaji (Wonder Egg Priority)
Editing: Daisuke Imai (Houseki no Kuni (TV))
Music: Junichi Matsumoto (Plunderer)
Music Production: flying DOG
Sound Director: Shouji Hata (Yuukoku no Moriarty)
Sound Effects: Noriko Izumo (Natsume Yuujinchou San)
Sound Production: Sound Team Don Juan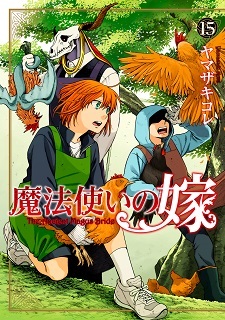 Cast
Chise Hatori: Atsumi Tanezaki (Zankyou no Terror)
Elias: Ryouta Takeuchi (Haikyuu!!)
Ruth: Kouki Uchiyama (Horimiya)
Silky: Aya Endou (Shinsekai yori)
Titanina: Sayaka Ohara (Fate/Zero)
Oberon: Kappei Yamaguchi (InuYasha)
Spriggan: Hiroki Yasumoto (Kuma Miko)
Yamazaki began drawing the magic fantasy manga, also known by its short title Mahoyome, in Monthly Comic Blade in November 2013 before transferring it to Monthly Comic Garden due to the former ceasing publication. Mag Garden simultaneously serializes the manga on its MAGCOMI website and shipped the 15th volume on Wednesday (pictured).
Wit Studio produced a three-episode prequel OVA titled Mahoutsukai no Yome: Hoshi Matsu Hito (The Ancient Magus' Bride: Those Awaiting a Star), which was was bundled with the sixth, seventh, and eighth volumes from 2016–2017. A 24-episode television anime aired in Fall 2017, adapting till the ninth volume.
Seven Seas Entertainment licensed the manga in English in October 2014 and published the 13th volume last October. The 14th volume is planned for an April 27 release.
Announcement
Official site: https://magus-bride.jp/wildhunt/
Official Twitter: @mahoyomeproject
Studio Kafka official site: http://www.studio-kafka.jp/
Studio Kafka official Twitter: @studio_kafka
Source: Press Release, PR Times
Mahoutsukai no Yome: Nishi no Shounen to Seiran no Kishi on MAL