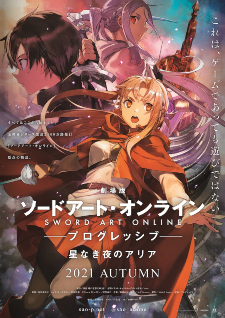 The Connect Green stage for the Sword Art Online Movie: Progressive - Hoshi Naki Yoru no Aria (Aria of a Starless Night) anime film at AnimeJapan 2021 unveiled production staff, a second key visual (pictured), and second trailer on Saturday. The film will open in theaters in Japan in Fall 2021.
Inori Minase (Dungeon ni Deai wo Motomeru no wa Machigatteiru Darou ka) is joining the cast as Mito. Minase joins Yoshitsugu Matsuoka (No Game No Life) and Haruka Tomatsu (Horimiya), who are reprising their roles as Kazuto Kirigaya and Asuna Yuuki, respectively.
Staff
Sub-character Designer: Aya Akizuki (Sword Art Online: Alicization animation director), Tomomi Ishikawa (Persona 5 the Animation character design), Keisuke Watanabe (High School Fleet Movie)
Prop Design: Hisashi Toujima (Enen no Shouboutai animation director)
Art Director: Yusa Itou (Akanesasu Shoujo)
Art Setting: Akihiro Hirasawa (Koutetsujou no Kabaneri: Unato Kessen)
Color Design: Naomi Nakano (Kemono Jihen)
Director of Photography: Yuki Ooshima (Hataraku Saibou (TV))
CG Director: Kengo Oda (22/7), Hiroshi Nakajima (Fate/Apocrypha)
2D Works: Youhei Miyahara (Beatless CG Director), Kaori Seki (Black Bullet motion graphics)
Editing: Kiyoshi Hirose (Drifters)
Sound Director: Yoshikazu Iwanami (Fate/Grand Order: Zettai Majuu Sensen Babylonia)
Sound Effects: Yasumasa Koyama (Re:Creators)
Sound Production: Sonilude
Production: Egg Firm, Straight Edge
Ayako Kouno (Koi wa Ameagari no You ni assistant director) is directing the film at A-1 Pictures. Yasuyuki Kai (Haikyuu!!) is the action director, Kento Toya (Sword Art Online: Alicization - War of Underworld) is designing the characters, and Yuki Kajiura (Kimetsu no Yaiba) is composing the music.
Trailer 2
Source: PR Times