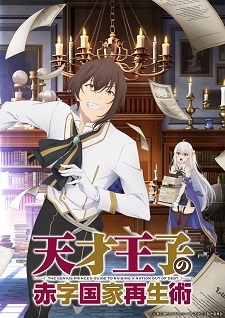 The official website of the Tensai Ouji no Akaji Kokka Saisei Jutsu (The Genius Prince's Guide to Raising a Nation Out of Debt) anime series revealed three additional cast, a new (1.5th) key visual, and the first promotional video on Tuesday. The television anime adapting Tooru Toba's comedy fantasy light novel will air in January 2022.
Cast
Fisch Brandel: Youko Hikasa (Sword Art Online Alternative: Gun Gale Online)
Nanaki Ralei: Yuuki Sakakihara (Argonavis from BanG Dream!)
Zeno: Yuki Nakashima (BanG Dream! 2nd Season)
Souma Saitou (Yuukoku no Moriarty) and Rie Takahashi (Re:Zero kara Hajimeru Isekai Seikatsu) are starring as Wein Salema Arbalest and Ninym Ralei. Sayaka Senbongi (Koutetsujou no Kabaneri) and Nao Touyama (Yuru Camp△) are respectively voicing the characters Falanya Elk Arbalest and Lowellmina Earthworld.
Makoto Tamagawa (Saint Seiya: Saintia Shou) is helming the anime at Yokohama Animation Lab, with assistant director Xinya Cai (Magatsu Wahrheit: Zuerst episode director). Deko Akao (Hitomi Mieno) (Vanitas no Karte) is handling the series composition, and Toshihiko Sahashi (Full Metal Panic!) is composing the music.
Toba began penning the comedy fantasy light novel with illustrations by Fal Maro under the GA Bunko label in May 2018. SB Creative published the tenth volume on August 12. Yen Press licensed the light novel in English last February and released the seventh volume on August 31.
PV
Source: Anime! Anime!