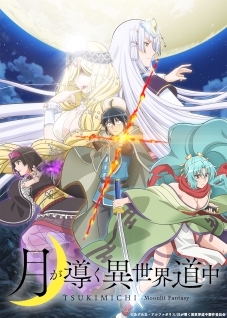 The official website for the television anime adaptation of Kei Azumi's Tsuki ga Michibiku Isekai Douchuu (Tsukimichi: Moonlit Fantasy) light novel revealed additional cast, staff, a key visual (pictured), and the first promotional video on Wednesday. The anime series will air on Tokyo MX, MBS, and BS NTV in July 2021.
Cast
Ema: Saori Hayami (Kami no Tou)
Beren: Shinpachi Tsuji (Fairy Tail)
Toa: Yurika Kubo (Seishun Buta Yarou wa Bunny Girl Senpai no Yume wo Minai)
Rinon: Aiko Ninomiya (Munou na Nana)
Megami (Goddess): Reina Ueda (Lord El-Melloi II Sei no Jikenbo: Rail Zeppelin Grace Note)
Tsukuyomi: Tomoaki Maeno (Hataraku Saibou (TV))
Staff
Assistant Director: Kazunobu Shimizu (Fairy Tail (2014) episode director)
Chief Animation Director: Yumiko Nakamura (Yuri!!! on Ice animation director), Yukie Suzuki (Binbougami ga!)
Action Director: Yuuji Suzuki (Edens Zero director)
Monster Design: Hiroshi Arisawa (Kanata no Astra mechanical design)
Layout Supervision: Hiroki Ikeshita (Shachou, Battle no Jikan desu! director)
Key Animation: Ryou Haga (High School Fleet animation director), Yuuji Takagi (Skate-Leading☆Stars chief animation director)
Chief Animation Supervisor: Tomoya Takahashi (Sekaiichi Hatsukoi: Propose-hen director)
Art Director, Art Setting: Masahiro Satou (Aria the Avvenire art director, Tensei Shitara Slime Datta Ken art setting)
Color Design: Masato Takagi (Majo no Tabitabi)
Art Board: Kouki Nagayoshi (Yagate Kimi ni Naru art director)
Prop Design: Akane Imada (Hitoribocchi no Marumaru Seikatsu clothing design), Nagatomi Kouji (Love Live! Sunshine!! The School Idol Movie: Over the Rainbow clothing design), Youko Tanabe (Harukana Receive animation director)
Editing: Gou Sadamatsu (Golden Kamuy)
Director of Photography: Masaaki Onodera (Anitore! EX)
Special Effects: Yuuichi Furuichi (Lapis Re:LiGHTs)
Sound Director: Shouji Hata (Great Pretender)
Music Production: Nichion
Shinji Ishihira (Log Horizon) is helming the series at C2C. Kenta Ihara (Youjo Senki) is in charge of the script and series composition. Yukie Suzuki (Fight League: Gear Gadget Generators) is designing the characters, and Yasuharu Takanashi (Gunjou no Magmell) is composing the music.
Azumi began writing the adventure fantasy novel, also known by its short name as Tsukimichi, on the Shousetsuka ni Narou website in February 2012 and later on AlphaPolis in July 2016. It was briefly published on both platforms before its run on Shousetsuka ni Narou ended in August 2016. AlphaPolis began printing the series with illustrations by Mitsuaki Matsumoto in May 2013 and released the 15th volume on October 30 last year.
PV
Source: animate Times