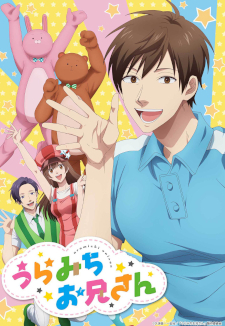 The official website for the Uramichi Oniisan (Life Lessons with Uramichi Oniisan) television anime revealed six additional cast members on Friday. The anime is scheduled to premiere this July.
Cast
Yusao Furode: Shinichiro Miki (Gintama)
Tekito Derikida: Kenyuu Horiuchi (Dorohedoro)
Eddie Edei: Natsuki Hanae (Kakushigoto (TV))
Kayo Ennoshita: Minami Takahashi (Kobayashi-san Chi no Maid Dragon)
Ikuko Heame: Rina Satou (Toaru Kagaku no Railgun)
Furitsuke Capellini: Kazuya Nakai (Kekkai Sensen)
Character visuals for the cast introduced when the anime was announced in October 2019 were unveiled on the official website. The website confirmed that Mamoru Miyano and Nana Mizuki, who are playing Iketeru Daga and Utano Tadano, respectively, will perform the anime's opening theme. They were previously revealed to be singing songs for the anime that were featured in the manga.
The adaptation of Gaku Kuze's dark comedy web manga is being directed by Nobuyoshi Nagayama (Boku no Kanojo ga Majimesugiru Sho-bitch na Ken, Runway de Waratte) at Studio Blanc. Touko Machida (Lucky☆Star, Nagato Yuki-chan no Shoushitsu) is in charge of series composition and Kei Haneoka (Kono Oto Tomare!, Owarimonogatari) is composing the music.
Source: Comic Natalie