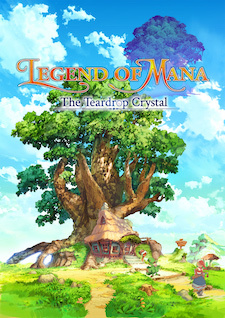 Warner Bros. Japan opened an official website for an anime adaptation of Square Enix's Seiken Densetsu: Legend of Mana role-playing video game on Sunday, revealing a teaser visual (pictured). The anime series, subtitled The Teardrop Crystal, is being produced by animation studios Graphinica and Yokohama Animation Lab.
Square Enix published the first game in the Seiken Densetsu (Mana) series as a Final Fantasy spin-off, titled Seiken Densetsu: Final Fantasy Gaiden (Final Fantasy Adventure) in 1991 for the Game Boy console. The second and third games, Secret of Mana and Trials of Mana, were released for SNES in 1993 and 1995, respectively. The game franchise has sold a cumulative 8 million copies worldwide.
Legend of Mana, the fourth game, was released on PlayStation in 1999. Square Enix published an HD remaster for Nintendo Switch, PlayStation 4, and PC on Thursday.
Shiro Amano (Kingdom Hearts manga) serialized a five-volume manga adaptation in Monthly Famitsu Bros magazine from 2000 to 2003.
Official site: http://mana-lom-tc.com/
Source: Press Release